Manchester City striker John Guidetti signs new contract
Last updated on .From the section Football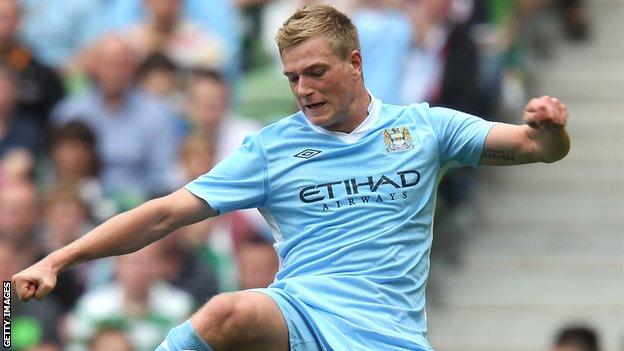 Manchester City's Sweden international striker John Guidetti has signed a new three-year contract at Etihad Stadium.
The 20-year-old joined City at the age of 16 but is yet to make a league appearance for the champions.
He was linked with a number of clubs after scoring 20 goals in 23 matches on loan at Feyenoord last season.
Guidetti returned to City after suffering illness towards the end of the last campaign and is currently seeking to regain full fitness.
"It's going well - I can run, I can shoot, I can pass, so I am definitely getting there, but we have to be a bit more patient and of course I want to get out there every day, it's what I long for," he said.
Asked about his new deal with City, he said: "I feel really happy of course, it's a fantastic football club and to sign a new deal is really, really good. I've been here for a long time and Manchester City are the ones who have helped me grow and develop to the player I am today, so I am very grateful for that."