Botswana to decide fate of coach Tshosane next week
By Mtokozisi Dube
BBC Sport, Gaborone
Last updated on .From the section Football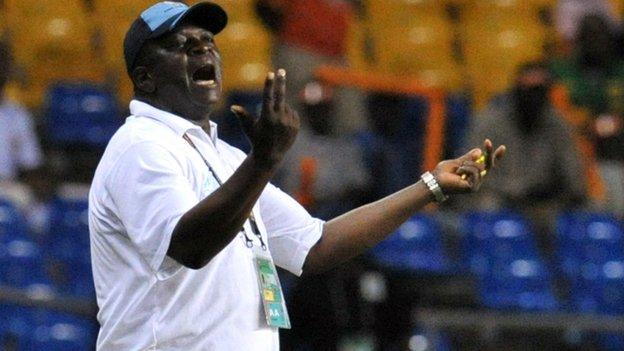 Botswana's FA (BFA) will meet next week to decide the fate of Stanley Tshosane.
There have been widespread calls for the coach's dismissal after the Zebras' failure to qualify for the 2013 Africa Cup of Nations.
"If we feel the coach is the right person he will continue but if he is not we will not be afraid to make a decision," said BFA boss Tebogo Sebego.
Under Tsoshane's guidance, Botswana competed at their first Nations Cup earlier this year.
Yet they will be absent from next January's finals in South Africa after losing 7-1 on aggregate against Mali in their final round qualifier.
Tshosane has described the current situation as unhealthy, adding that he has no problem in moving on if he is pin-pointed as the reason behind the botched campaign.
"It's important to look at the problem. If the BFA feels I have failed, I should be told to leave and I will just say 'thank you very much' and leave," Tshosane told BBC Sport.
The former BDF XI coach is just seven months into the new three-year deal he signed in March, shortly after the Nations Cup ended.
While he admits the team fared badly this time around, he insists he did not fail - saying that administrative issues, such as inadequate preparations, affected the team's preparations.
"Success in football comes from preparation and looking at the results, I agree the team has done badly," said Tshosane.
"I had submitted a plan to the BFA which was never followed - supposedly because there was no money."
However, Sebego said the BFA did what it was supposed to with the 'limited resources' given to assist the coach.
Ever since the Zebras qualified for the 2012 finals, Botswana football has been rocked by strikes - mainly over financial issues.
This led to the early retirement of the core of the team that took the southern Africans to the continent's showpiece sports event.
All-time top scorer Diphetogo Selolwane was among those who hung up their boots after the Nations Cup.