Chris Coleman will not resign as manager of Wales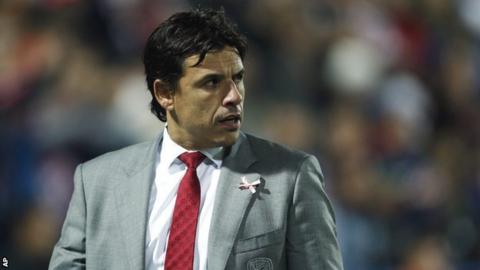 Chris Coleman insists he has no intention of quitting as Wales manager despite a poor start to their 2014 World Cup qualifying campaign.
Wales have lost three of the first four Group A matches, including their biggest thrashing for 15 years with a 6-1 defeat in Serbia.
Coleman's only win in five games in charge was a 2-1 victory over Scotland.
"My contract is until the end of the qualifying games and I'm looking to see that through," said Coleman.
Speaking to the BBC's Sport Wales programme, broadcast on Friday evening, he added: "I've had six games, [I'm] yet to have our strongest team on the pitch, one game [was] really bad - Serbia [a 6-1 defeat].
"Let's say we were three or four games in and we'd won every game, and let's say financially a better offer came my way from a big club.
"I wouldn't walk away because it leaves my country in a bit of a predicament.
"Equally, we've won one and lost three [World Cup qualifiers] and it's a tall order for us to qualify, but we're halfway through it so no, absolutely not [considering resigning]."
Coleman has been hampered by injuries and suspensions since taking over a Wales squad still coming to terms with the death of former boss Gary Speed.
A particular low point in qualifying was an unexpected 6-1 thumping in Novi Sad by a Serbia side that is itself struggling for form.
But Wales did bounce back to beat Scotland and claim their first win in the group - and the first under Coleman - thanks to a Gareth Bale-inspired performance at Cardiff City Stadium.
"After the Scotland win I said to my press conference that I was the same manager as I was 24 hours before when all the flak was flying and I'll be the same manager in 24 hours time," Coleman told the BBC Sport Wales programme.
"Now we've gone to Croatia - Croatia who are top 10 in the world [Croatia are 11th in latest Fifa rankings] - they've lost one game in 47 qualifiers at home and we've lost. In terms of the players and the effort it was fantastic.
"I'm the same manager now as I was Friday night, but it's results and that's what people look at."
Wales' next competitive match is in March 2013 when they have their return fixture against Scotland.
Watch Coleman's full interview on Sport Wales, BBC Two Wales, Friday 19 October at 19:00 BST