Michael Laudrup dimisses talk of player unrest at Swansea
Last updated on .From the section Football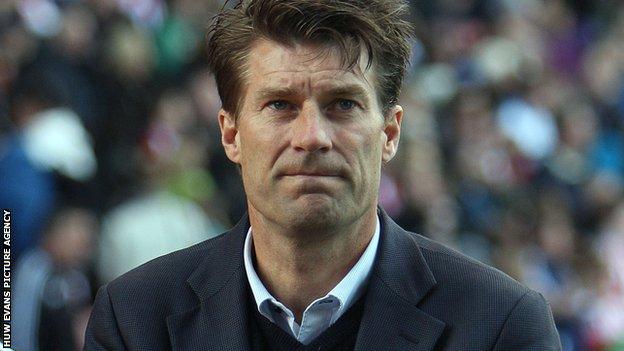 Swansea City manager Michael Laudrup has dismissed allegations of player unrest at the Premier League club.
Newspaper reports had suggested Laudrup was facing a rebellion from senior players, who it was said had held meetings with chairman Huw Jenkins.
Laudrup said Jenkins would have brought any such complaints to his attention and there was no truth in the reports.
"If there had been a problem the chairman would have called me immediately," Laudrup said.
"We talk with each other every week. If there was something we would have spoken about it.
"I have a great relationship with him. Both of us would never allow any person to jeopardise the harmony of the group.
"I don't see so much in it. It doesn't mean you don't have players who are not satisfied - it happens in all teams, even at clubs at the top when players are not playing.
"But we are all going in the same direction and people are training and doing what's needed to be done, so there is no problem."
Laudrup had been surprised by the reports and in a club statement the former Denmark striker and chairman Jenkins denied there was disharmony at the club.
Club captain Garry Monk also dismissed reports of a revolt in a statement issued by the club and said the club's players were "angry" at national newspaper reports.
Following the international break, Swansea resume their Premier League campaign at home to Wigan Athletic on Saturday.
The Swans have failed to win in their last five games in the league but halted a run of three defeats with a 2-2 draw at home to Reading.
And Laudrup believes it is no coincidence reports of unrest were published during their recent run of disappointing results.
"Articles that come out negatively mostly come out when you don't win and when the results on the pitch are not that good, which we have to admit, is our case at the moment," he said.
"I wouldn't give it much importance and really it's a week ago so for me it's case closed."
Laudrup's side are 11th in the table, four places ahead of Wigan who have won only once in the league this season under former Swansea boss Roberto Martinez.
"To be honest I think Wigan deserve more points than they have," Laudrup added.
"I have seen nearly all their games and in at least two of them they have deserved much more than they achieved, against Sunderland for instance.
"But maybe we have deserved a couple of better results, but we can't turn back the clock, we can only look forward and that is what we are doing."