Mark Wotte urges SFA to be patient with Craig Levein
Last updated on .From the section Football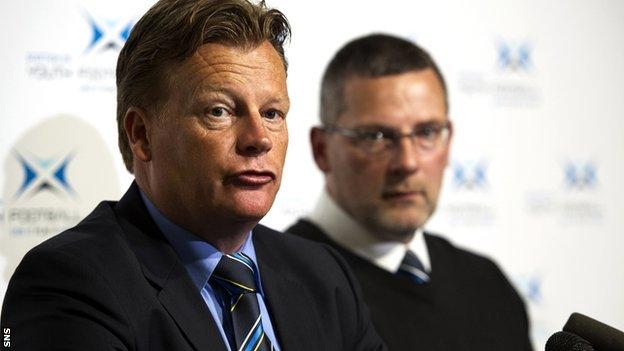 Scottish Football Association performance director Mark Wotte is urging his employers to back under-fire national team manager Craig Levein.
The SFA will discuss the poor World Cup qualifying campaign with Levein when he returns from a week's holiday.
"I love Craig because he works his socks off for Scotland. His heart and soul is in the national team. He wants the best for Scotland," said Wotte.
"We can bring in [Jose] Mourinho. Maybe he will win us games, but I doubt it."
The Dutchman, speaking at a tournament of teams from the SFA's performance schools, says he sometimes acts as a sound board to Levein and he added: "He is an experienced coach.
"He doesn't have to ask me to how to do his job.
"He is a proper Scot who loves his country, who played for Scotland."
Wotte acknowledged that Scotland's results to date in Group A - two home draws and two away defeats - mean that faith in the manager is at a low ebb.
However, he believes the work the SFA is doing to try to develop better players will eventually pay dividends for the national team.
"In professional football, a manager is always responsible for results but you have to reflect on why results are not as good as you expect," said Wotte.
"I think we are definitely on the up although it isn't reflected in the results.
"But things will get better the longer we persist creating a culture and philosophy to play the modern game.
"You have to always look at the positive. It's not easy in Scotland. We have recognised a year or two ago, with the report of Henry McLeish, that things have to change.
"Belgium, Holland Spain, France all did it years ago. We are late but not too late.
"I am positive about the future of Scottish football but I know we have to be patient."
, Scotland are bottom of Group A with six qualifiers remaining.
For Wotte, that lowly position is disappointing but he believes Scottish football fans need to be realistic.
"I see a lot of desire but I think the desire and the expectations are mixed up," he said.
"It's a tough group: we are not better than Belgium, Croatia are a very decent side, so that leaves us, Serbia, Macedonia and Wales to be third but that is not good enough to qualify.
"The fans want to go to the tournaments but we have to be realistic - how good is this squad and how good do you need to be to go to the World Cup?
"You cannot change the squad of players. You can change, maybe, the style of play but eventually it all comes down to the quality of the players.
"If the quality of the players is what it is at the moment, we just have to build for the future.
"There are some bright youngsters and there will be more if we wait for a couple of years."