Liverpool boss Brendan Rodgers 'not considered Andy Carroll recall'
Last updated on .From the section Football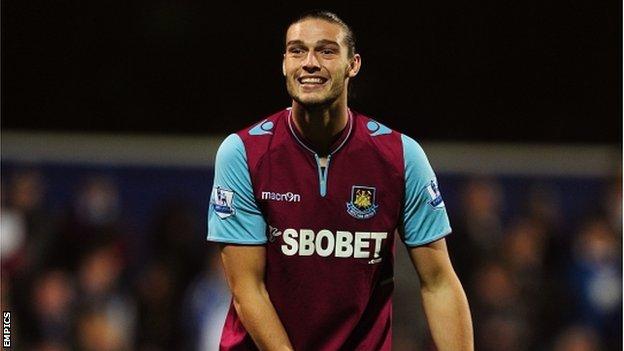 Liverpool boss Brendan Rodgers says he has not yet considered ending Andy Carroll's loan spell at West Ham to increase his striking options.
Reds forward Fabio Borini is expected to be out for up to three months after breaking his foot, leaving Luis Suarez as Rodgers' only recognised striker.
It is understood Liverpool have an option to recall record signing Carroll from his season-long loan in January.
But Rodgers said: "It isn't something I have considered, to be honest."
The Liverpool manager said they would be assessing the situation due to Borini's injury.
"Andy has obviously gone out to get games," he said. "We have people watching when he plays and they report back on how he is doing."
Liverpool have youngsters Daniel Pacheco, Samed Yesil, Jerome Sinclair and Adam Morgan as possible striking options. However, Rodgers is wary of flooding the first team with them.
"Not every young player can play," he continued. "This is an unforgiving league and my job is to nurture the talent and not destroy it.
"We have other players that we may be able to have some flexibility within the team [to cover for Borini]."
Rodgers balancing act also includes looking after Suarez who will have to lead the line until reinforcements are brought in.
"I've rested Luis a couple of times knowing the squad we have and the games we have, looking to prioritise," he said.
"Luis will absolutely love playing three times a week, but I need to try to nurture him because there are still many games to play between now and January.
"And even in January if we bring someone in it may not be 1 January, so that is something which, over time, I need to assess and we'll look to manage the squad."