John Terry case damaging to English football - David Bernstein
Last updated on .From the section Football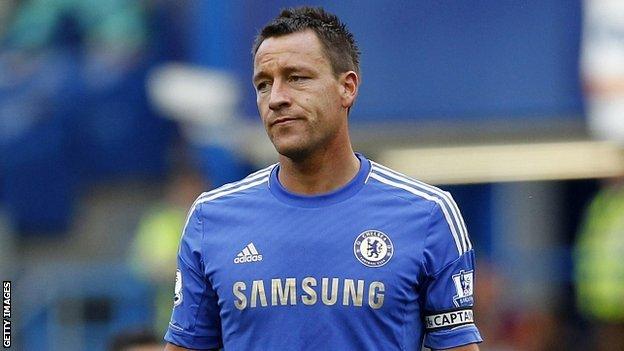 Football Association chairman David Bernstein says the John Terry racism case has damaged the reputation of English football.
Terry was suspended for four games and fined £220,000 for racially abusing QPR defender Anton Ferdinand last season.
"The reputation of English football has been damaged," said Bernstein, after Terry decided not to appeal against the FA's sanction.
"I am pleased he has apologised and we must now draw a line under the matter."
Bernstein added: "It is a shame that one high-profile incident has had such a major impact. But this single event should not be allowed to overshadow the massive strides taken by players, managers, clubs, leagues and so many across the national game in terms of equality and inclusion."
The FA's handling of the Terry case has been criticised, with former chairman Lord Triesman questioning why the Chelsea defender was given a lesser ban than Liverpool's Luis Suarez for racially abusing an opponent.
But Bernstein reiterated the FA's stance that Suarez's eight-match punishment for abusing Manchester United's Patrice Evra reflected the player's "repetition of the insulting language".
"We have noted criticisms made by the Independent Regulatory Commission as to how matters could and should be improved," Bernstein said.
"I will ensure any lessons that arise from the ruling will be learnt quickly and appropriately."
Bernstein also condemned events in Krusevac on Tuesday when England under-21 defender Danny Rose claimed he was racially abused throughout their game against Serbia.
"As events this week have shown there are still many lessons to be learnt in the wider fight against racial abuse and discrimination of all types," he said.
"No player should suffer the intolerable abuse the likes of which Danny Rose was subjected to in Serbia."
Looking ahead, Bernstein said the FA would be working hard to find ways of getting more black and ethnic minority players, managers, chairman and senior administrators involved in the game.
"Inclusion and equality are key cornerstones of our 150th anniversary next year," he said.
"There is much to be done and I pledge to play my part in ensuring we make the maximum progress in moving the agenda forward strongly, and with the urgency it deserves."