Sporting spotlight: Mikael Silvestre
Last updated on .From the section Football
Learning from Sir Alex Ferguson and Arsene Wenger, almost joining Manchester City and keeping spirits high with his rum business, BBC Sport puts 35-year-old former Manchester United and Arsenal defender Mikael Silvestre under the spotlight.
How did your return to Manchester United come about?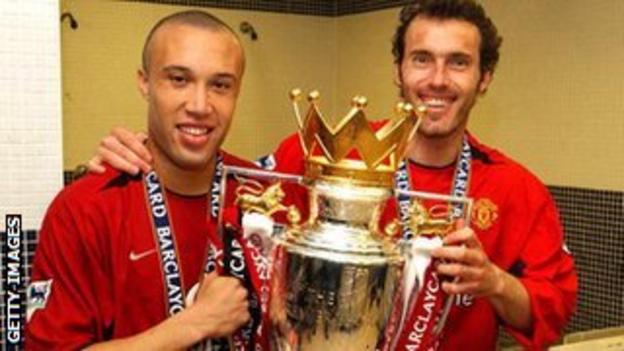 After spending nine years at United, it felt normal for me to come back and train while I am without a club. I spoke to the gaffer Alex Ferguson and he said come along to train with us and keep fit. I have kept in touch with him and some people from the club since I moved, so United feels like home.
It is like I never left, I have got my appetite back and as a top player that is when you enjoy it the most.
Who was your toughest opponent?
Alan Shearer and Les Ferdinand were the most difficult to play against. They were so strong aerially and you had to watch out they didn't catch you with any flying elbows.
Who was the best player you played with?
The greatest player I played with was Ronaldo the Brazilian at Inter Milan. Even if you asked Zinedine Zidane the same question, he would give you the same answer. I was fortunate to play with someone like that and it was amazing.
What was current England manager Roy Hodgson like when you were at Inter Milan?
Roy was very friendly and I liked him. We had fairly good results with him, but our target was to reach Europe with him and couldn't make it. It was nice to meet someone there who was able to speak French.
Whose results who do you look out for?
I look out for all my clubs, but mainly United because I spent most of my playing career there, winning a number of titles at the club.
Is it true you chose Manchester United over a move to Liverpool?
Liverpool came in for me before I signed for United when Gerard Houllier was the manager and he said come and join us. But Sir Alex also asked me to join and convinced me to do so. United had just won the treble and they were the team at the top so I took the decision to join them.
Everything looked easy when I joined. You put your shirt on and you know you are going to win. Even when we went one or two goals behind, we kept coming back and winning. The first two years I was there we won the league title - it was amazing.
What was the highlight of your career?
Winning the 2008 Champions League final in Moscow was great. Even though I didn't get to play in the final, I played in the quarter-final win over Roma so I feel I had a part in the team lifting the trophy.
Could you have joined Manchester City when leaving United?
There was an offer from City when I was leaving. I had a chat with City boss Mark Hughes and was in the middle of the medical when Arsenal boss Arsene Wenger called me. City weren't what they are now so I decided to follow the French contingent down in London and it was an easier decision because leaving United for City would have been hard for me and my family every day.
What did you learn about Sir Alex Ferguson and Arsene Wenger while working under them?
I learned that no matter what happens, no matter the result they still work hard. That is who they are, that is their mentality. Their determination is top all the time. They are always focused, wanting to win and football is their life. They give everything.
When do you think Arsenal will win a trophy again?
I think they will lift a domestic cup at the end of this season and end their long run without winning silverware, but the problem Arsenal have is the core of the squad does not stay the same for a long period. Robin van Persie has now gone to United, Alex Song to Barcelona and Cesc Fabregas and Samir Nasri have left too.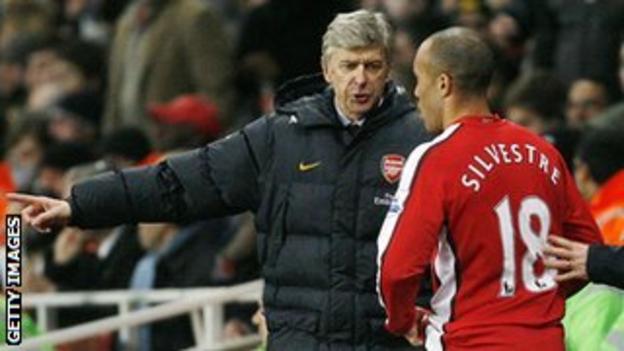 What is the best piece of advice you have been given?
Play simple football.
Which sporting icons would you invite to dinner?
Muhammad Ali, because he is an inspirational figure. Carl Lewis and Lance Armstrong. Only joking, I wouldn't really invite him!
What does the future hold for you?
Joining Dodsal FC is a long shot for me. Their season in India starts in January and they haven't signed any foreigners yet so I had some discussions with them and they want me to join.
For now I am enjoying my time at United, keeping fit. I have the feeling I am capable of playing at the highest level still. I wouldn't say no to returning to the Premier League if I got the opportunity.
What do you do away from football?
I have my own rum business called Rhum St Barth which I develop myself, but I also do some media work for a French TV network.
Do you use Twitter?
Yes, but only to promote my rum business, not to tell people I am out having a coffee - what is the point in that?
Finally, who do you think will win the Premier League title this season?
Manchester United.