Craig Bellamy has 'nothing to prove' to Wales
Last updated on .From the section Football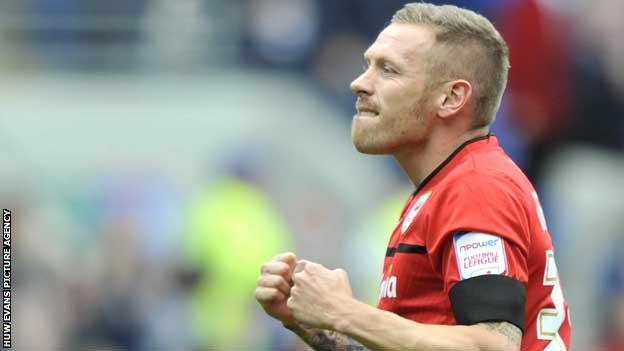 Cardiff City boss Malky Mackay insists his striker Craig Bellamy has "nothing to prove" to Wales as uncertainty surrounds his international future.
Wales manager Coleman to extend his 15-year Welsh career after the 33-year-old missed their first four World Cup qualifiers.
Injuries forced Bellamy to miss those fixtures but the former Welsh captain is considering retiring from Wales.
"Craig has been a flag-bearer for Wales for a long time," said Mackay.
"He has turned up to games all over Europe when various people have called off for the last 10 years so he doesn't need to prove himself in terms of his commitment of what he has done for his country.
"But it is between Chris and Craig to determine his international future.
"I'm only concerned with Craig's fitness and availability to our club which has been fantastic."
Asked how much dialogue there has been between Coleman and Mackay regarding Bellamy's fitness, Mackay said: "None at all.
"We speak now and again about various things but nothing on that particular aspect."
Bellamy, who rejoined Championship side Cardiff from Liverpool in the summer, featured as a substitute for Wales in their 2-0 friendly defeat against Bosnia-Hercegovina in August.
Wales have played 122 internationals since Bellamy's international debut but the Cardiff-born player, who has scored 19 goals in 69 caps, has missed many matches as he manages a long-standing knee injury.
He did not feature in their defeats against Belgium and Serbia in September because of a calf injury while Bellamy also missed the win over Scotland and Tuesday's Group A loss in Croatia due to knee trouble.
Ryan Giggs, John Hartson and Simon Davies are recent Welsh internationals that quit playing for their country in an attempt to prolong their club careers.
And Mackay admits: "It makes a difference if you are getting to the latter part of your career.
"The physical nature of football nowadays means that you have to take care of your body even more - and the people at the club have to take care of your body. That's in domestic football as well as internationals.
"But it is even worse with internatonals as they have to go away when the domestic break does come when players have the chance to get four or five days off with their families.
"International players don't get rest and recovery because they have to go away and be involved in games and a lot of them come back a day before they have to get back into a league season.
"And your domestic situation comes into it as well, where you are with your life and your family in terms of being away and travelling to various parts of Europe over a period of time."
Bellamy, the fifth top goalscorer in Welsh football history, faces a late fitness test on his knee problem before Cardiff's Championship trip to Nottingham Forest on Saturday.