AFC Bournemouth: Eddie Howe says board will not interfere
Last updated on .From the section Football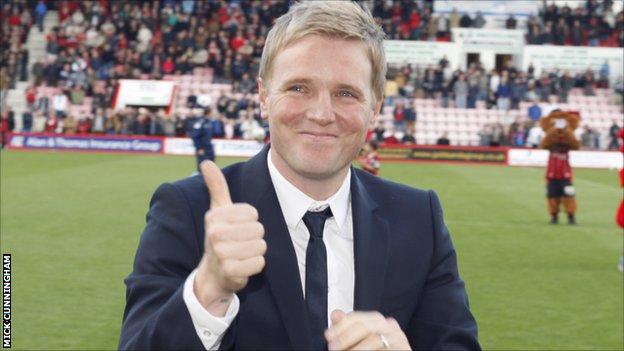 New Bournemouth manager Eddie Howe says he is unconcerned by boardroom interference on his return to the club.
Howe comes back to the club after nearly two years away and says he has established boundaries with the board.
The Cherries co-owners have been the subject of incidents in the past of interfering on match days, but Howe says he will run the team as he wants.
"I am going to be able to manage the team as I see fit and that is very important," Howe told BBC Radio Solent.
Last season, the wife of co-owner Max Demin spoke to the team at half-time during a game and Howe insists there will be no such repeat.
"It is such a difficult profession. If you do fail, you want to fail on your terms doing all the things you think are right," said Howe.
"I want to manage as I see fit and and I know we have the backing of the board, the chairman and co-owner, and we look forward to building that relationship."
Howe, whose side take on Tranmere on Saturday, also dismissed suggestions the Cherries are spending beyond their means.
The club have invested heavily on and off the pitch over the past 12 months, but Howe says he has no concerns that it could lead to financial difficulty in the future.
"You only have to look around the stadium to be encouraged and to see the changes that have been made," Howe continued.
"The money that has been spent has been spent in the right areas, such as the training pitches, and are for the benefit of the football club.
"The changes of the youth set-up are for the benefit for the football club.
"So everything I have seen off the pitch is for the benefit of the football club.
"All you can ask for when people take ownership of the football club is to make sure the future of the club is secure and the club is moving in the right direction.
"No-one can tell what happens in the future, it doesn't matter what club you are at.
"All Jason (Tindall) and I can do is concentrate on improving the results in the short term and then put an infrastructure in place for benefit of the football club."