Truro City saved from expulsion from the Football Conference
By Brent Pilnick
BBC South West Sport
Last updated on .From the section National League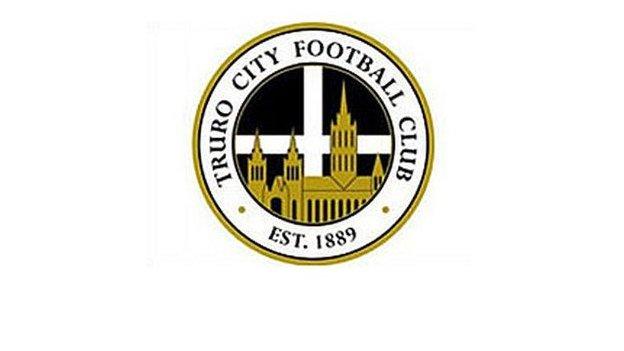 Truro City have had a late reprieve from being expelled from the Football Conference after two businessmen lodged a £50,000 bond with the league.
Pete Masters and Philip Perryman have paid the bond to cover costs of other clubs going to Truro, who are in administration, if they go bust.
"The bond has been lodged," Masters told BBC Radio Cornwall.
"They have accepted the bond and hopefully we're all back on track and we can play football again."
The Football Conference has confirmed that the bond has been accepted and the club can continue to play in the league.
Saturday's game at Eastleigh is still postponed, but Truro will play at Staines Town on Tuesday night.
The Conference were ready to expel the club after they missed the initial deadline of 12:00 BST, but gave Truro until 17:00 BST to lodge the bond after Masters and Perryman's interest came to light.
Masters runs a Truro nightclub while Perryman owns a taxi firm in the city.
"We want to get some interest back into the town and get football playing again," Masters said.
"I've spoken to Lee Hodges [Truro City manager]. There are things to do and sort out, but we're very straightforward people and all we're interested in is to keep the club running."
The lawyer for the club's administrators James Moore confirmed that the Conference has accepted the money and the club will not be expelled from Blue Square Bet South.
"The Football Conference are going to allow the club to trade for the entirety of the season," he told BBC Radio Cornwall.
The previous bidders pulled out early on Friday morning after initially agreeing to pay the bond by the 12:00 BST deadline.
"Two hours after that deadline we did receive a call from Pete saying he wished to help and we discussed it," Moore continued.
"We've been having conversations with the Football Conference and Pete this afternoon.
"The decision has been made to release that £50,000 to the Conference, in accordance with that bond, to allow the club to continue to trade and allow the possibility of a sale to complete."
A deal with a prospective new owner for the Blue Square Bet South club had been agreed on Thursday, but the bidder walked away from the deal on Friday morning.
Administrators refused to name who was involved in that bid, but conference general manager Dennis Strudwick told BBC South West Sport on Thursday that Truro-based businessman Anthony Murtagh was involved with the bid.
Murtagh, who owns the Truro-based Money Group, is a director of a company which changed its name to Truro City Football Club 2012 Limited on Thursday, according to Companies House.
Truro after owner in August and left the club to fight
Under the ownership of Heaney, Truro to go from local league football to two divisions off the Football League and also won the 2007 FA Vase.