John Terry remains Chelsea captain but is heavily fined
Last updated on .From the section Football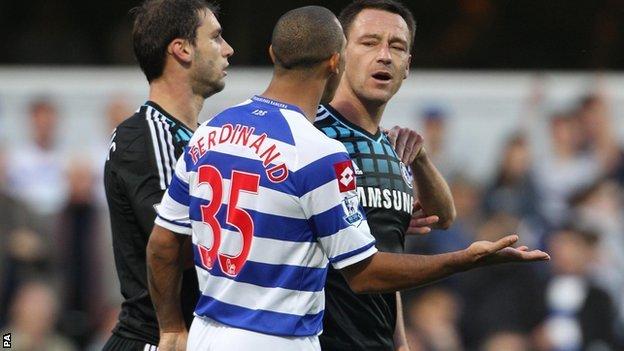 John Terry will continue as Chelsea captain, the club's chairman Bruce Buck has confirmed.
Terry was for racially abusing QPR defender Anton Ferdinand last October.
The European champions have not imposed a further ban but have handed out a "very, very heavy fine."
Buck also said owner Roman Abramovich had been consulted before "firm disciplinary action" was taken.
Terry, 31, was cleared of all criminal charges in July after Westminster Magistrates' Court concluded there was insufficient evidence against him.
But an FA inquiry decided otherwise, concluding that Terry's defence of the charge was "improbable, implausible, and contrived."
The former England captain, who announced his international retirement last month, will serve the first of his four-match domestic suspension on Saturday when Chelsea visit Tottenham.
He is available to play Shakhtar Donetsk in the Champions League on Tuesday night.
Chelsea chief executive Ron Gourlay told talkSPORT: "It's been very challenging [since the incident 12 months ago] and it has left a cloud hanging over the club.
"It was a lapse in judgement and out of character for John, he did fall below the standards we expect."
Gourlay would not reveal the exact size of the financial penalty but said: "It is a very, very heavy fine.
"We've had long conversations with John. The language used on the day, whatever the context, was wrong and he fell below the standards we expect of him. We've come down on John very heavily."
Buck, who added that Terry would not be sold if an offer for him were to materialise during the January transfer window, said the fine given to him was the heaviest "by far" they had ever handed out to a player.
"We can say very simply that with John Terry as captain we can move forward from this incident, but we won't forget this incident," he told talkSPORT.
"John Terry apologised to everybody and in my mind that means an apology to Anton Ferdinand.
"I sat near the Ferdinand family in court and I could see the affect this was having on them and it wasn't good, we understand what they have gone through and Chelsea Football Club would like to apologise to them because it has been a very difficult time for them.
"They didn't do anything wrong, they shouldn't be suffering and we're sorry."
Chelsea manager Roberto Di Matteo supported the club's stance.
Speaking after the , Di Matteo said: "The board made the decision and I respect the decision and support it.
"They are the board and they make the decisions in the best interests of the club. I have an input but ultimately it is the board's decision."
The Chelsea officials were also quizzed about Ashley Cole, who was fined £90,000 by the FA after he criticised English football's governing body in a tweet containing an obscenity.
Buck said: "The club was very surprised with the level of fine the FA imposed. What he did was definitely 1,000 per cent wrong. He apologised to the England manager and to the FA and we would view this as a mitigating circumstance. But it seemed to us as being excessive."
Gourlay added: "It was inappropriate. We have a social media policy and he breached that. It was inappropriate and Ashley apologised at the time and he understands he did wrong."