Sunderland v Newcastle: Winners have momentum - Pardew
Last updated on .From the section Football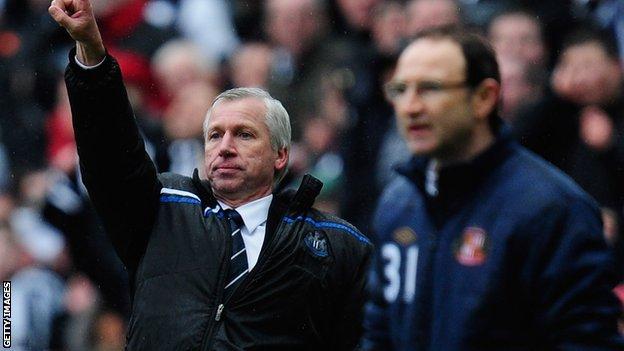 Newcastle boss Alan Pardew believes the winner of Sunday's derby with Sunderland will have momentum in the battle for the Premier League top-half.
Two points separate the Magpies in 10th from their 13th place rivals going into the 147th encounter between the clubs.
"It's a springboard to the top eight this game, we're both aware of that," Pardew told BBC Newcastle.
"This side is stronger than any one I've faced previously, and they look like they're going to be a good team."
Pardew added: "I can say this, with my independent hat on, there are two good north east teams looking for a good season.
"With my Newcastle hat on I'd like to think it'll be us that finishes above them."
The Londoner believes that the Tyne-Wear derby rates amongst the best.
"It's one of the great derbies of the world," said the 51-year-old. "I have been to many, many games, including the Glasgow derby, and this game is as venomous as that."
Sunderland's record in the fixture on Wearside has seen them win just one in the last 15 at home, with the 2-1 victory in October 2008 the last time they took all three points.
Last season's 1-0 defeat by the Magpies was the beginning of the end for then boss Steve Bruce.
Corbridge-born Bruce won just two games in the subsequent 12 in charge before his eventual departure in November.
He was replaced by Martin O'Neill, whose season so far has seen just one win, and one defeat in six games since the start.
"The game is very important, but whether it's a defining moment I'm not terribly sure," O'Neill said.
"We're coming towards the end of October - we've only played six games in that time, so for the next two months we're going to cram in an awful lot of fixtures.
"I'm hoping it's not a defining moment particularly if we get beaten, but because we have so many matches then we maybe have less time to dwell on it."
Pardew has called on his side to match their opponents' work rate at the Stadium of Light in a bid to extend his unbeaten run against the Wearsiders.
"Sunderland play a similar way in every game, they work you hard, they're organised," he added.
"They play with a real tenacity and you have to match that, and all a derby does is magnify that - it urges them on.
"Their best game will be against us, in terms of how they approach it in the manner they do, but we have a different style.
"We have to match their intensity, and then try to get between the lines and down the sides."
Alan Pardew was talking to BBC Newcastle's Mick Lowes, while Martin O'Neill was speaking to BBC Newcastle's Nick Barnes.