Andre Villas-Boas puts Tottenham before personal glory
Last updated on .From the section Football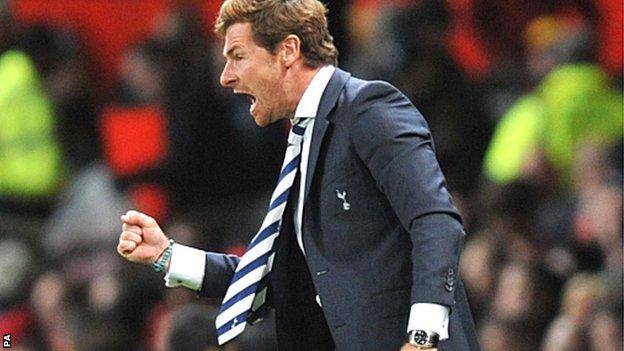 Andre Villas-Boas says Saturday's derby with Chelsea is more important for his Spurs team than any personal grievance.
Villas-Boas, who was sacked as Chelsea boss after 257 days in charge, will face his old club for the first time when the leaders visit White Hart Lane.
"I feel this is much more about Tottenham in the sense that Chelsea are the team who took this club out of the Champions League," the Portuguese said.
"We certainly have ingredients for it to be a spectacular match."
Spurs were challenging for the title under Harry Redknapp midway through last season, having embarked on an 11-match unbeaten run.
In February they were third, 10 points clear of fourth-placed Arsenal, but an indifferent run-in saw their north London rivals overtake them.
With assistant manager Roberto Di Matteo having replaced Villas-Boas, Chelsea beat Spurs in a controversial FA Cup semi-final in April, and their victory on penalties in the Champions League final a month later meant Redknapp's team were denied a place in this season's competition.
Redknapp was sacked in June after guiding Spurs to fourth, fifth and fourth in the last three seasons and Villas-Boas was appointed as his successor three weeks later.
Villas-Boas insists he holds no grudges against his former employers and believes he benefitted from his brief tenure at Stamford Bridge.
"I'm going to see people who mean a lot to me, people who are part of my development as a coach," said Villas-Boas, whose Chelsea team drew 1-1 with Redknapp's Tottenham in last season's league meeting at White Hart Lane.
"I certainly feel I have become a better coach because of them. They have helped me a lot on my development of career.
"People who gave everything for me, obviously it is special to encounter any team you have played or belonged in the past."
Di Matteo's Chelsea also won the FA Cup last season and have made an impressive start to the current campaign, unbeaten with six wins out of seven.
Villas-Boas, who encountered a hostile reaction from Spurs fans after his side could only draw their opening two home games with West Brom and Norwich, has since begun to pick up points, with four successive league victories including the club's first victory at Manchester United for 23 years.
The Tottenham manager, who has former Spurs midfielder Steffen Freund as his assisant, feels remaining unbeaten for a season, like Arsenal did in 2003-04 and his own Porto side did two years ago, is an even more tougher proposition than the coveted Cup double Chelsea achieved last term.
"Winning any league is extremely difficult but going through it unbeaten is also extremely difficult," he said.
"The achievement that Arsenal did was remarkable and outstanding and probably won't be repeated in the modern game as it happened in Porto with me.
"There were games where we lived on the limit and certainly Arsenal did the same. It will be something extremely difficult to go past. Which is more difficult? Remaining unbeaten in the league."