Chris Kirkland attacked by Leeds fan at Sheffield Wednesday
Last updated on .From the section Football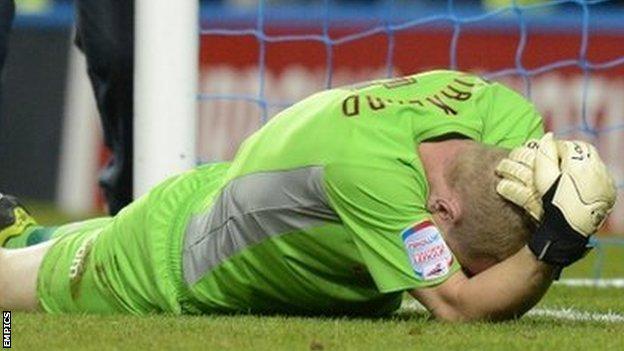 The Football Association has launched an investigation into the incident which saw Sheffield Wednesday keeper Chris Kirkland attacked by a fan.
Kirkland, 31, required treatment after he was struck in the face during the Yorkshire derby against Leeds United, which ended in a 1-1 draw.
On Monday, Gloucestershire police charged a 21-year-old man from Cheltenham for the assault.
Owls boss Dave Jones called for Leeds fans to be banned from away grounds.
"We are investigating the events of last night and awaiting the referee's report," said an FA spokesman.
"The FA condemns the scenes at Hillsborough. We have begun an immediate investigation and have been in contact with both clubs.
"We would call for the authorities to identify and bring before the courts anyone who was involved in any form of criminal disorder."
The attacker, who ran from the Leppings Lane end housing over 5,000 Leeds fans, struck former Liverpool and England keeper Kirkland with such force he fell to the ground.
Kirkland, who joined the Owls from Wigan in May on a two-year contract, won one England cap in 2006 when he came on as a substitute in a 4-0 friendly win against Greece at Old Trafford.
He said: "After conceding the goal, I was looking at the ground but when I looked up, I caught a glimpse of someone coming towards me.
"I thought he was going to give me some abuse but then suddenly he came at me with both hands and I was stunned - you never know what could have been in his hands.
"Later on I thought of my family watching something like that and it was not nice to think my daughter saw me assaulted like that.
"I want the authorities to look at what happened and take the appropriate action because sooner or later, we could be talking about something even more serious."
Wednesday manager Jones, who was taunted by visiting fans during the game, told BBC Radio 5 live: "They are vile animals. You talk about racism [but] the chanting, that's a form of racism.
"They should be banned from every away ground if they're going to behave like that.
"They [Leeds fans] are all going to get tarred with the same brush and that's not right, but they will do and they should do because it wasn't one person chanting the vile things.
"I thought those days had gone 15 or 20 years ago. They should be punished. I've had it for 12 years and it is just upsetting that they are able to do it.
"The authorities have to look at it and sort it. I'm talking about an incident when we should be talking about the football."
Jones was also angry that Leeds manager Neil Warnock instructed his players to applaud the away fans at the end of the game.
"I really am fuming that he sent his players to clap them. For what? Wrecking a stadium, beating up my goalkeeper?" he added.
South Yorkshire Police have issued a statement saying they were also investigating incidents "where it is believed seats and bottles were thrown" inside the ground.
Kirkland was able to finish the game but Jones said the player was "sore", "dazed" and "maybe concussed" in the dressing room.
Warnock, who offered to calm both sets of fans down in the first half as tensions rose, admitted he was "embarrassed" to be a manager.
He said: "I'm not proud to be Leeds manager when I see that.
"I don't mind the atmosphere, there's been elbows flying, but to see things like that on the field of play, I'm embarrassed."
A Leeds statement read: "Leeds United would like to publicly apologise and condemn the action of the fan who came on the pitch and attacked Sheffield Wednesday goalkeeper Chris Kirkland.
"After the week football has endured there is no place for this type of behaviour and the majority of Leeds supporters will be ashamed of his actions."
Ray Fell, chairman of the Leeds United Supporters' Club, said he was "distressed" at what had happened.
"The majority of the Leeds fans in the crowd did not approve of the chanting and certainly not the lad who ran on the pitch," Fell told BBC Radio 5 live.
A South Yorkshire Police statement read: "During the match between Sheffield Wednesday and Leeds United at Hillsborough, incidents have occurred where it is believed seats and bottles were thrown inside the ground.
"Such incidents are not acceptable and we will be working with both clubs to identify quickly the persons responsible.
"Thankfully, such incidents are a rarity when we see a minority spoil it for the majority of genuine supporters."