Jersey must build on England chance says FA coach
Last updated on .From the section Football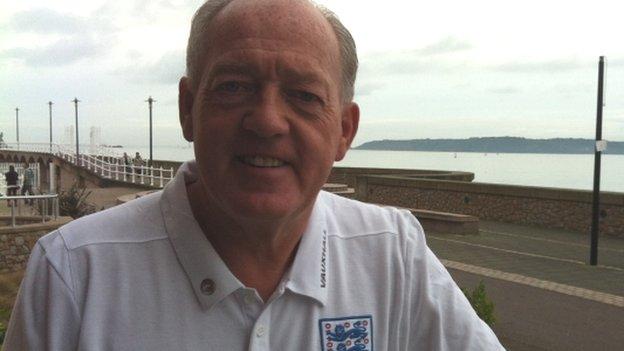 The technical director of England's amateur football team says Jersey's Football Association must build on their Uefa Regions Cup campaign and have more matches of higher quality.
Jersey will represent England in the tournament in San Marino in March after
"The Jersey FA should be using this as a stepping stone to push football forward," Mick Payne told BBC Jersey.
"For them to build on this is a great opportunity," he added.
Payne was in Jersey to work with island coach Craig Culkin and his squad after Culkin
Jersey will follow in the footsteps of Guernsey, who won the Inter-League Cup in 2010, and represented England at an amateur level in Europe.
And Payne believes that experience is what galvanized the island to send a team into the English league system structure.
Guernsey FC easily last season and are currently second in the Premier Division.
"I do believe the Guernsey set-up, off the back of representing England, was an almighty push for them to go where they've gone.
"I'm not saying that's what Jersey are looking to do, but what I do think is that young players on this island should aspire to play at the highest level possible.
"There are some very good, talented, technical players," Payne added.
"But I'd like to see them being exposed perhaps a bit more to better competition."
But Payne was pleased with the man Jersey have at the helm in Culkin.
"I've been extremely impressed with Craig, he's a young coach with a lot of good ideas.
"When you're coaching you've got to believe in your format and what you do and how you do it.
"I'm delighted to be alongside him in terms of giving my experience as he's like a sponge, he wants to take information on board and is open to ideas."