Scotland: 'Bad luck not, bad management' - Peter Houston
Last updated on .From the section Football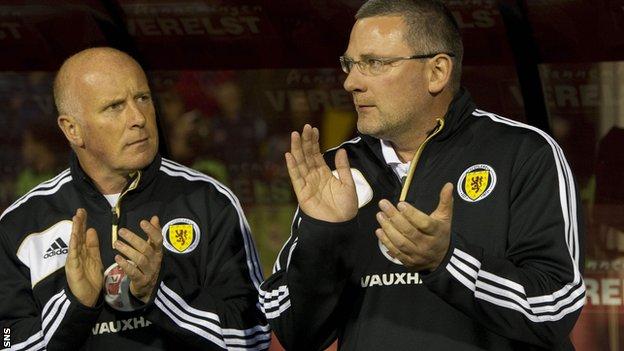 Scotland assistant Peter Houston insists that it is bad luck rather than bad management that has put coach Craig Levein's job on the line.
And Dundee United boss Houston says of Levein that "he's no quitter" - and that the players "love the manager".
"We've had bad decisions against us and sometimes, like the Macedonia game, we didn't play so well," he said.
"He wants to continue working with the players and you know what? The players want him to continue as well."
Scotland slumped to the bottom of World Cup Group A after successive losses, away to Wales and Belgium.
Levein will discuss his future with the Scottish Football Association when he returns from holiday, with former chief executive Gordon Smith saying that the coach ought to resign.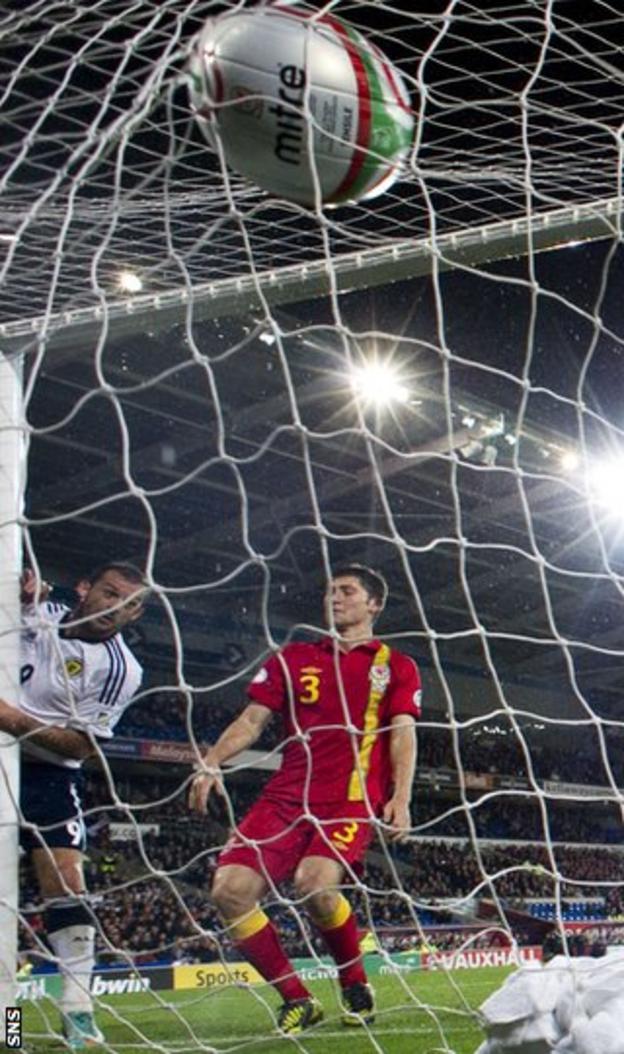 But a string of Scotland players have been vociferous in their defence of the former United, Aberdeen and Leicester City manager, as have current club bosses.
"If he stays and he wants me to stay, I'll certainly stay because I think he's still a top manager," Houston told BBC Scotland.
"If Craig's going to continue in the job and I certainly hope he does, and I think he should do, certainly I'll be helping him along the way.
"Trust me when I say this - the players love the manager. They love the amount of information he gives them, how they are set up to play the match.
"If players are not working hard enough for you then you think you've got a major problem, but the players are working their socks off.
"Not one of them has downed tools with regard to Craig Levein and I think the nation should be like that as well."
Houston recognises that many fans are calling for a change of manager and admits that results have not been good enough.
"What's disappointed me is some of the criticism from people who have been managers and coaches before criticising Craig Levein when they have not been that successful themselves," he said.
"If Craig decides to go, or if the SFA decides to move Craig on, whoever goes in has the same bunch of players.
"In a club side, you can go there and change the players. We have got what we've got and sometimes, on the day, we've been unfortunate.
"If you can tell me any players who are out there who should be in the squad, I'd like to know them."
Indeed, Houston pointed out that Levein had been instrumental in finding quality, English-born players like James Morrison and Matty Phillips for the squad.
However, he pointed to a disputed penalty decision in the Euro 2012 campaign, an offside decision that benefited Macedonia in the recent draw at Hampden and a wrongly disallowed goal against Wales as examples of decisions that had hurt Scotland.
"We have been very unfortunate," said Houston. "The big man's not had a rub of luck.
"I laugh at people who say when we play Macedonia we should obviously win 3, 4 or 5-0. That's what people in Scotland think, sadly.
"Macedonia are a right good side and proved it the other night by going and beating Serbia, who are a good side and beat Wales 6-1.
"I look back at the games we played recently against Macedonia and Wales - they would have been won if it was not for poor decisions that went against us."