Michel Vorm calls for more action on racism after T-shirt protest
Last updated on .From the section Football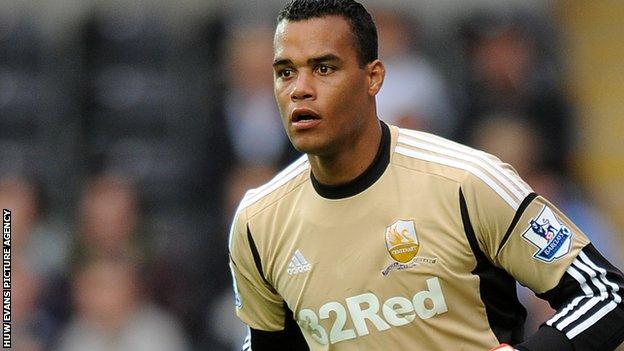 Swansea City goalkeeper Michel Vorm has revealed the feeling of unease among the players that led to a boycott of anti-racism T-shirts on Saturday.
None of the Swansea players wore a Kick It Out T-shirt before beating Wigan 2-1 at the Liberty Stadium.
The visitors followed suit, with boss Roberto Martinez saying the players wanted to support Swansea's action.
"Everybody is against racism of course but everyone expects the governing bodies to do more," said Dutchman Vorm.
"They really have to do something and not just say something on a T-shirt. So some of the players didn't want to wear the T-shirt because of that."
Vorm, who celebrated his 29th birthday on Saturday, said the players would wear the T-shirt only if there was an unanimous decision among the squad to do so.
The top was due to be worn at Swansea as part of a period of anti-racism action under the banner of the Kick It Out campaign that started on Thursday and ends on 29 October.
Premier League players traditionally wear T-shirts during this time as a show of support for the campaign group and its message, although on this occasion the action is spread across two weekends and some clubs have chosen to wear the tops next week.
Rio Ferdinand decided to break ranks from his Manchester United team-mates by not wearing the T-shirt before Saturday's game with Stoke City, much to the annoyance of manager Sir Alex Ferguson.
Jason Roberts made the same gesture before Reading's game with Liverpool, but his decision was supported by his manager Brian McDermott.
Chelsea and Manchester City players did not wear the T-shirt before their separate games on Saturday, but both clubs are expected to join the campaign next week.
Swansea manager Michael Laudrup said it was entirely the players' decision not to wear the T-shirt before facing Wigan, saying: "It's an individual thing because the issue is not only a football issue, it is social too.
"I don't think with a thing like that you can say you have to do it."
Opposite number Martinez revealed that Swansea's action prompted a show of solidarity from the Wigan players.
"We wanted to support the home team and I would expect the same thing if Swansea come to our ground and there is a gesture from the home team," said the former Swansea manager.
Two goals in three second-half minutes from Pablo Hernandez - the Spaniard's first for the club - and Michu gave Swansea a 2-1 win over Wigan, ending a run of five Premier League games without a victory.
Laudrup said: "You can say there is a mixture of joy and relief, we knew today was very important for us and I think if you see the game the players played with a lot of confidence and patience."