Dave Jones says fans must police themselves after Leeds clash
Last updated on .From the section Football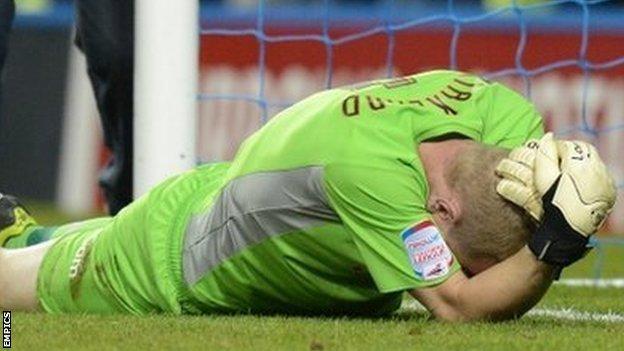 Sheffield Wednesday manager Dave Jones says fans must take action against troublemakers after unruly scenes at their match with Leeds on Friday.
"People that go to games that are disgusted, they're the ones that should walk out and police their own fans," Jones told BBC Radio 5 live.
On Monday, Gloucestershire police charged a 21-year-old man from Cheltenham with the assault.
The Football Association has launched an investigation into the incident.
After Michael Tonge equalised in Friday's match at Hillsborough, Leeds fans spilled out on to the pitch, with one knocking Kirkland to the ground by striking him in the face.
Interviewed after the match, Jones, who had been subject to personal chants against him throught the game, branded Leeds fans "vile animals" and suggested they could be banned from away grounds.
And the Owls boss told Radio 5 live's Sportsweek programme on Sunday: "I apologise for tarring all the supporters amongst them but that's what it's going to take to sort it all out I think.
"Everybody got carried away with one person, as if it was just one person that caused all the trouble and it wasn't. It was an accumulation - that's why I said what I said.
"We're always looking to blame other people. The only people that can stop it are the fans themselves.
"He was a hero, he ran in the crowd, they were slapping him on the back, so what do you do about that?
"Everybody wants to fine somebody. That guy that ran on was already banned. There must be people in the stadium that know he was already banned and knew who he was.
"I know Neil has apologised to Chris Kirkland but that lad could have had a knife or anything."
Jones was also angry with Warnock for sending the Leeds players to applaud their fans after the final whistle at Hillsborough.
Leeds manager Warnock though believes it's down to the law to make a stand.
"Sheffield Wednesday fans, Sheffield United fans, Leeds fans, they've all got these elements. We know the lad who assaulted him and it's down to the courts," Warnock told Sportsweek.
"It's not just Leeds and Sheffield Wednesday, we've had it at Liverpool-Man Utd. Within three minutes I got abused but I laugh it off because I'm used to it.
"Dave knows what the situation is and no manager should put up with it but you're going to get that everywhere."