Sol Campbell wants Uefa to punish racism with points deductions
Last updated on .From the section Football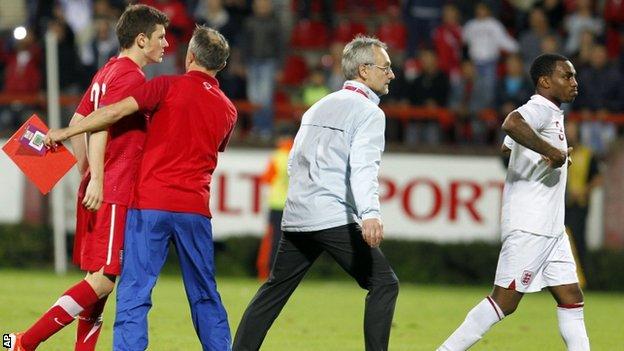 Former England defender Sol Campbell has called on Uefa to start docking points for racist abuse.
"There has to be something done. I think points, there are fines, but I think points have to be taken," he told BBC Radio 5 live's Sportsweek.
"If you keep knocking six, nine points off they will start to wake up."
Violent scenes erupted shortly after Connor Wickham scored in the 90th minute to give England victory in Krusevac.
The Serbian FA has been charged with alleged racist chanting by fans.
Their punishment has yet to be decided but Campbell feels that curtailing a country's hopes of qualifying for major tournaments will encourage improvements.
"Once you get this idea into their heads that they may not qualify for major tournaments for 20 years then they might change," he said.
The former Arsenal and Tottenham defender doubts whether the world and European governing bodies have the will to properly tackle racism.
"I'd love Uefa or Fifa to do something about it but I honestly believe they're not going to do anything," he said.
"I don't think they're going to find them guilty, I think (Serbia) are going to get out of it.
"The government have to get involved, you cannot leave it to associations any more, it never gets done."