Ryan Shawcross staying at Stoke, says boss Tony Pulis
Last updated on .From the section Football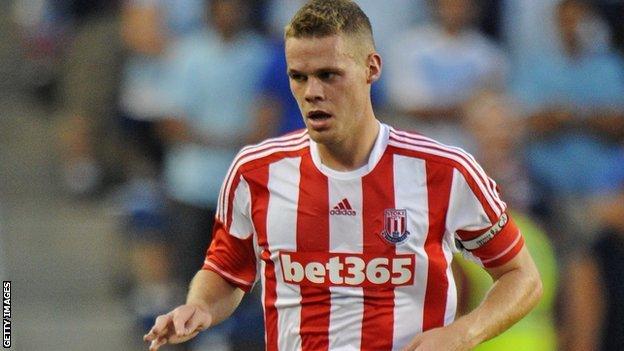 Stoke City manager Tony Pulis has ruled out the possibility of captain Ryan Shawcross leaving the club in the January transfer window.
The defender, 25, has gone from strength to strength since moving to Stoke from Manchester United in 2008.
And United boss Sir Alex Ferguson wrote in his Saturday programme notes that he wished he had kept Shawcross.
But of a potential move away from Stoke, Pulis said: "No chance. It has been a good marriage."
And Pulis added: "Ryan is our captain, he is only just 25.
"We won't see the best of him for another two or three years."
Shawcross was called up for his first competitive England games last week for the World Cup qualifiers against San Marino and Poland.
He played well against United on Saturday, although could not prevent Stoke from losing 4-2.
Ferguson admitted he allowed Shawcross to join Stoke because he felt he had a strong group of young defenders coming through at the same time.
"We had Jonny Evans, Gerard Pique, Ryan Shawcross, Craig Cathcart, and Paul McShane, and something had to give," he said.
"We made the right decision keeping Jonny Evans but I'm not so sure about letting Shawcross join Stoke."
Pulis was delighted to benefit from that situation and is confident Shawcross will only get better.
"The big clubs spend a hell of a lot of money on their youth development programmes but there is always a player there who might get stuck in the traffic of people coming through," he said.
"Ryan is one of them. He was a great signing and the good thing is he wants to get better. He has that desire about him."