Miguel Michu hailed a 'bargain' signing for Swansea City
Last updated on .From the section Football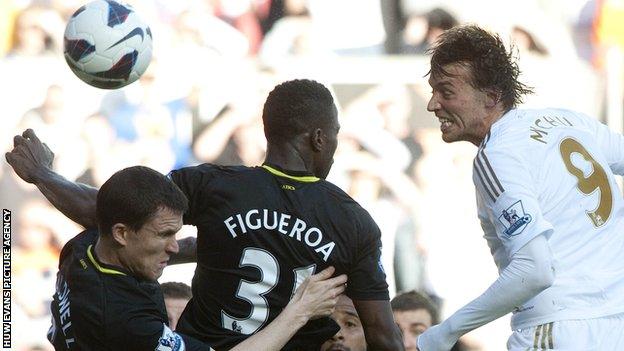 Swansea City forward Miguel Michu has already emerged as one of the best Premier League signings, according to goalkeeper Michel Vorm.
The 26-year-old signed in July for £2m from Spanish side Rayo Vallecano.
"He is something special, and for just £2m he's a bargain," said Swansea goalkeeper Vorm.
Michu announced himself to the Swansea faithful with two glorious goals in the opening day 5-0 win at Queens Park Rangers.
Further goals followed in his next two games against West Ham United and Sunderland.
His scoring exploits had previously come from his accustomed position as an attacking midfielder, but a switch to a lone striker role also paid dividends against Wigan.
"He's not the quickest player but he's got great technique and a great touch in front of goal," added Vorm.
"He can score with his head, both feet and you saw against Wigan how he works hard. Most long balls that were played up to him he won against the centre defenders."
Michu's goal against Wigan came from a corner, doubling the lead given by fellow Spaniard Pablo Hernandez two minutes earlier.
The header was particularly pleasing watching for Vorm, who suggested at half-time that Swansea needed to change their corner-kick routine.
"It was a great corner from [Jonathan] De Guzman and Michu headed in at the front post," said the Dutchman.
"We have to do better with corner kicks, and I said that during half-time.
"I think we had seven corners in the first half and didn't create anything. We had to change it up and we did."
Vorm, who celebrated his 29th birthday on Saturday, said victory over Wigan could prove far more significant than merely adding another three points to Swansea's total, which stands at 11 and leaves them 10th in the table.
Not only, he said, did it ease the pressure by ending a run of five Premier League games without a victory, but also made the prospect of facing Manchester City, Liverpool and Chelsea in successive games a little less daunting.
"We had to win and you could feel the pressure in the stadium," he said.
"Everybody was a bit nervous and you could sense the relief when we scored. With those three points, we'll feel more confident and relaxed going into the next games."