African Champions League tie delayed after hotel protest
Last updated on .From the section Football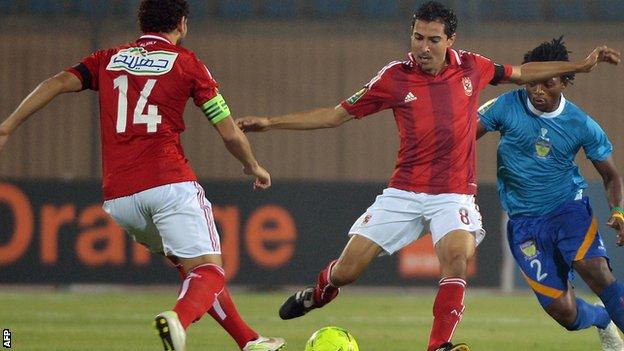 Al Ahly's African Champions League semi-final with Sunshine Stars has been delayed after protesters converged on the Nigerian team's hotel.
The match in Cairo had been due to kick off at 1830GMT on Sunday, but was put back 30 minutes.
It followed a stand-off at a hotel housing Sunshine Stars, with those seeking the resumption of the Egyptian league using the occasion to highlight their plight.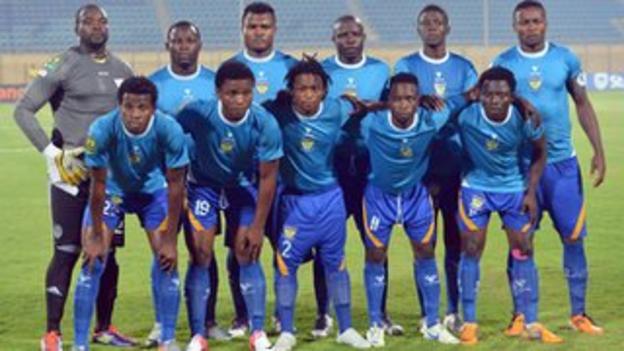 The Egyptian league has been suspended since deadly riots back in February, caused when Al Masry fans attacked Al Ahly supporters, killed more than 70 people.
Reports suggest the group of protesters included many players, who have had their livelihoods affected by the suspension of domestic football.
Fearing that the protest could prevent Sunshine Stars from playing the second leg of the Champions League tie, it is believed that Ahly fans went to the hotel, in an attempt to give safe passage to the opposing team.
Cairo-based journalist Aaron Ross said: "It appears the protesters were trying to prevent Sunshine Stars players from boarding their bus and getting to the game.
"They wanted to force Caf (Confederation of African Football) to cancel the game which they believe would have resulted in Ahly being disqualified from the competition.
"There ended up being quite a few clashes. Police ultimately intervened. There was tear gas and some quite violent confrontations."
Ahly won the second leg 1-0, to go through 4-3 on aggregate.