QPR manager Mark Hughes warns eradicating racism will take time
Last updated on .From the section Football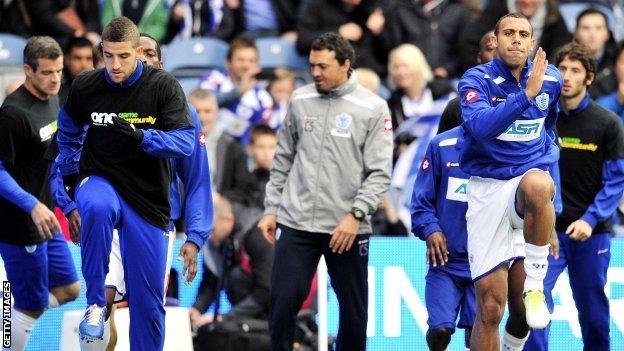 QPR manager Mark Hughes has warned it will take a long time to completely rid football of racism.
More than 30 players from eight Premier League clubs chose not to support the annual Kick It Out awareness drive by refusing to wear a campaign T-shirt.
Among them was QPR defender Anton Ferdinand, who was racially abused by Chelsea captain John Terry last season.
Hughes said: "It's very difficult to eradicate totally. Let's hope that will happen but we will be a lot greyer."
Ferdinand made his protest at the perceived lack of action against racism during the warm-up before Sunday's 1-1 draw Everton.
He was joined by team-mates Djibril Cisse, Shaun Wright-Phillips, Nedum Onouha and Junior Hoilett, while three Everton players - Victor Anichebe, Sylvain Distin and Steven Pienaar - also chose not to wear the T-shirts.
"My understanding at the beginning of the week was that everyone was going to comply," said Hughes.
"But a lot of people have made stands and possibly some of our guys felt that they needed to stand shoulder to shoulder, which, I think, you have to accept.
"Any campaign that looks to address an ill in our game and in society needs to be supported irrespective of the fact of whether they are doing enough or not.
"[Some] players feel it's time to make a stand and try and affect the authorities in terms of what they're doing. If it does that and they are better in fighting racism in sport, then it's a good thing."
Everton manager David Moyes backed his trio of players, but conceded he did not necessarily agree with their decision not to wear the T-shirts.
"I spoke to the players and they decided it was their decision," Moyes said.
"I listened to their reasons and I told them my reasons why I thought they should, but ultimately it's one of these things. They have to make that decision."
Manchester United's Rio Ferdinand, Anton's brother, incurred the wrath of his manager Sir Alex Ferguson by electing not to wear a T-shirt prior to their game against Stoke on Saturday.
Having said his players would wear the T-shirt, Ferguson felt he had been embarrassed by Ferdinand's actions, adding that the defender had let the club down and would be "dealt with".