Racism: FA 'loyalty' to Terry shows problem is still alive - Langley
Last updated on .From the section Football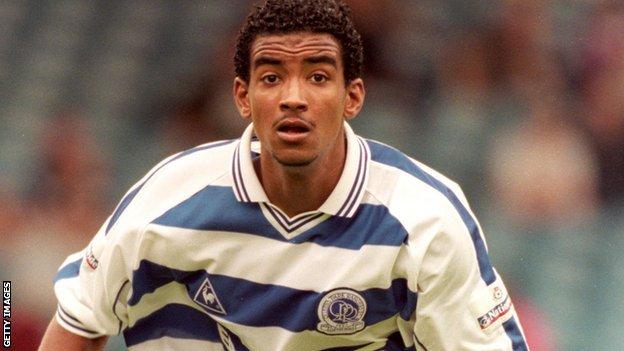 The issue of racism in football remains a very live topic, as the incidents in Serbia following an England Under-21 game and the decision of Jason Roberts, Rio Ferdinand and other footballers not to wear Kick It Out T-shirts this weekend demonstrate.
Here, Richard Langley, an English-born Jamaican international who played for QPR, Cardiff City and Luton Town during a 12-year career in the Football League, writes about his experiences of racism in the game and discusses what should be done to stamp it out.
Racism in football is still alive no matter how much we try to hide it.
Generations before me have suffered with an inordinate amount of abuse, more than anyone in my era has had to deal with.
Given the current attitude towards the wrongdoers and the lack of support for those affected, I believe our game is in danger of being dragged back 30 or 40 years.
In the 1970s and 1980s, there was a great deal of intolerance and injustice. Young black players had to fight for a fair chance and for the right to be judged equally and not by the colour of their skin.
My dad and his brother came to England from Jamaica in the 1960s as young boys. Whenever they tried to join a local team to play football, they encountered numerous difficulties, many of which are hard to understand in this day and age.
For example, despite turning up for practice religiously, they rarely got selected. When they were selected, they were often disregarded and ignored by 'team-mates' on and off the field. Sometimes they were not allowed to play at certain venues.
There was a general assumption, too, that being black you were either a defender or a striker because you were "quick and strong".
Invariably, these black players were told that they were not good enough or that they were not wanted.
The walls were built high and seemed impossible to break down.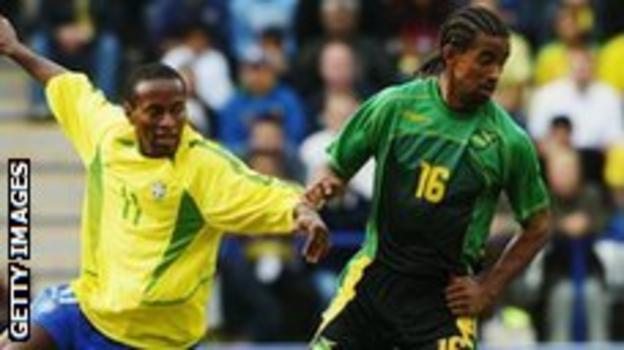 The solution for some was to form their own club where there would be no discrimination, and if you were good enough, you played.
After a period of determined struggle and with considerable enterprise, one such club was formed. It was called Learie Constantine FC.
My dad, being one of the founders, encouraged young black players to join together and stand up for their rights to compete.
They faced obstacles everywhere they turned. Referees were far from impartial, while opposing players were allowed to get away with tackles and verbal abuse that would make John Terry's foul-mouthed rant seem like playful banter.
These guys paved a direct path for me and some of my peers to have the professional careers we did. They could have given up, thinking that it was not worth all the pain and abuse, but they stood up for what was right. They persevered.
This leads me to draw a comparison with what is happening today.
There have been too many high-profile people encouraging us to sweep the issue of racism under the carpet.
Even Sepp Blatter, the president of world governing body Fifa, has encouraged players who suffer racial abuse on the pitch to resolve it with a handshake at the end.
What has been most frustrating is that these opinions have been printed quite freely. Yet search for opposing views and they are not as visible.
The fact that this racist behaviour is wrong and should be punished has almost been silenced, perhaps through fear of legal ramifications.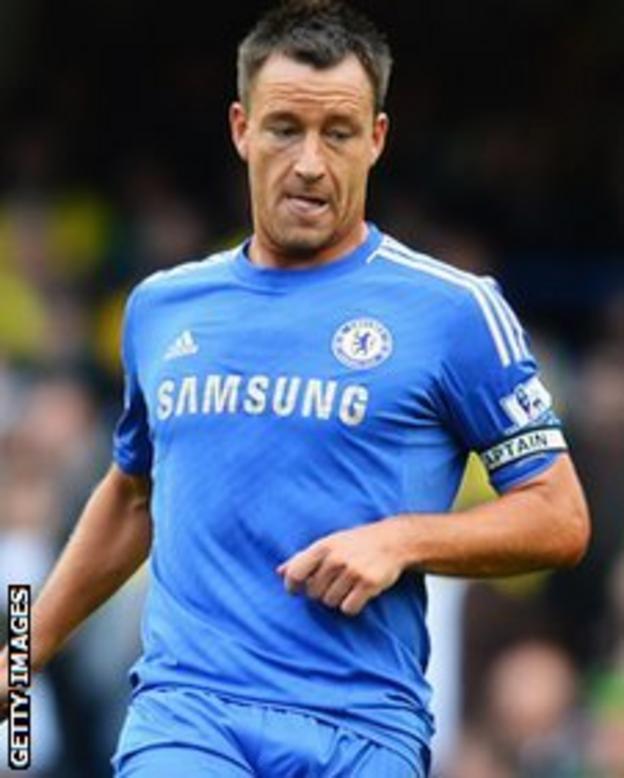 Liverpool's decision to support Luis Suarez was both disappointing and foolish. Likewise, Chelsea were wrong to back Terry.
It appears some players are untouchable.
Following the incidents in Serbia, the Football Association urged Uefa, which governs football in Europe, to take action against the Serbian FA. I totally agree with this response. However, it also angers me. We do not seem to have our own house in order yet are quick to criticise others.
Let me explain.
In my view, the FA showed too much loyalty to Terry. It may have taken the England captaincy from him but he remained in the squad, until deciding to retire from international duty.
Yet look back and what happened when other England players transgressed?
Jonathan Woodgate and Lee Bowyer were suspended from the England squad while they awaited trial for the alleged assault of an Asian student.
Alan Smith was omitted from the England squad while he waited for an FA hearing into claims he threw a bottle back into the crowd during a match.
And Rio Ferdinand was dropped by England following allegations he missed a drugs test.
Why were the goalposts moved to accommodate Terry?
As black players, we need to stick together and make sure we do not put up with being racially abused. Furthermore, being told to get on with it or shake hands is an absolute kick in the teeth to the men and women that have made the sacrifice for us.
Black players have been made to conform, to overlook things that if said or heard in a different environment would warrant a different reaction.
The things that are said on a daily basis among team-mates are passed off as "banter", but this "banter" can be offensive. If this "banter" occurred in any other line of work, the culprit would be disciplined immediately.
David James, the former England goalkeeper who played his club football for Liverpool, Aston Villa, West Ham, Manchester City and Portsmouth, recently stated that racism has been all but eradicated.
As one of the most famous black players over the last two decades, he should really think more before he offers an opinion so far from the truth. He needs to take his head out of the sand and realise what is going on around him.
I wonder if his views are still the same after the disgraceful scenes in Serbia, where England's Under-21 players were subjected to racial abuse from players and fans. Perhaps he did not see it.
I experienced and witnessed incidents of racism when I was a player.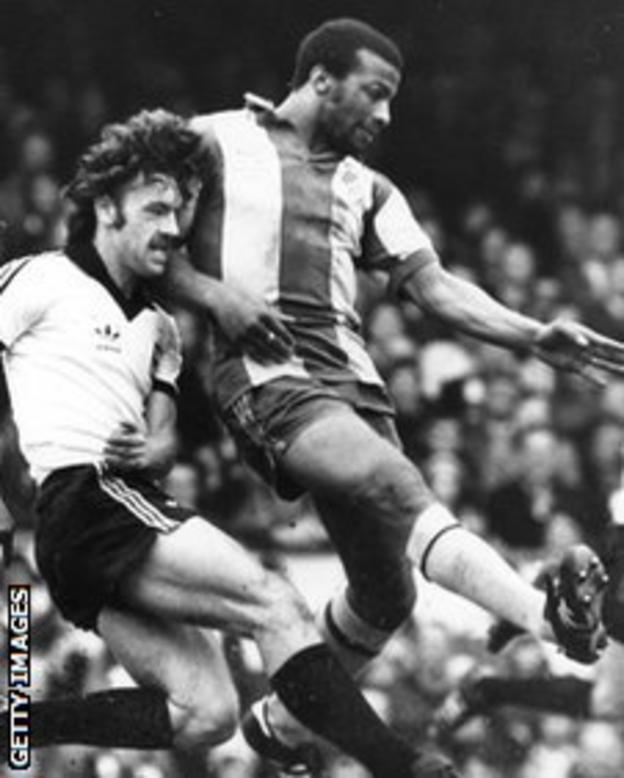 There was one in particular, during a game against Spurs. After swapping several tackles with a rival player, he got up and racially abused me following one collision. I thought for a second then told him how disappointed I was that he would go down that route with me.
I told him that he was my boyhood hero, that as a kid I had photos of him on my wall. None of this was true but I thought it would make him feel guilty. Immediately, he responded: "Langers, I'm not racist. Some of my best mates are black. I only said it to put you off your game because I couldn't get near you."
After the game, he came into my changing room and handed me his shirt.
I can recount other incidents of racism when I was a player. That naturally saddens me.
What I want is for people like my dad, Cliff Thomas, the father of West Bromwich Albion's Jerome, Luther Young, the father of Manchester United's Ashley, Cyrille Regis, the uncle of Reading's Jason Roberts, and many more of that generation to feel that the unjust years and blighted careers they went through are in the past.
To any governing body that turns a blind eye to such incidents, I want to tell you that your attitude only magnifies the fact that you are out of touch with the modern game. By ignoring racism, we are encouraging such behaviour on and off the pitch.
Comments have been disabled.