Burnley narrow shortlist of managerial candidates
Last updated on .From the section Football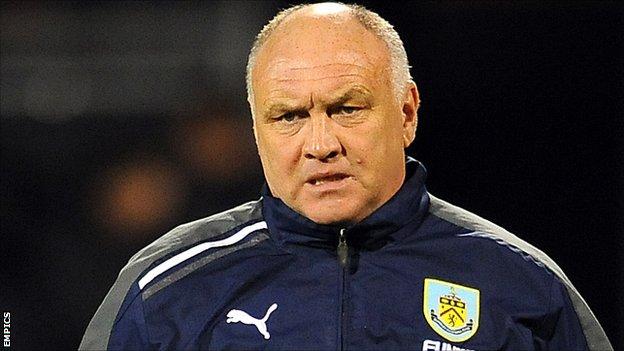 Burnley hope to name a new manager by the weekend, with Terry Pashley set to remain in charge on Tuesday evening when the Clarets face Bristol City.
Pashley's first game as caretaker boss ended in a
Joint-chairman John Banaszkiewicz says the search for Eddie Howe's successor is down to "three or four" candidates.
"It's quite difficult to pick the best one because there are three or four who are really capable and hungry for the job," he told the club website.
"I hope we will have an announcement by next weekend in terms of who that candidate is.
"We have been up and down the country and interviewed over 15 managers so far.
"We are going to shortlist them to three and four, and have second interviews and we will get the rest of the board involved as well."
Howe left Burnley to on 12 October.
And Pashley, who is the Clarets' youth team coach, led Burnley to a first win in five games on Saturday.
After the game, he reiterated that his main concern is on first-team affairs, and not who will replace Howe at the helm at Turf Moor.
"I don't control that," he told BBC Radio Lancashire. "I had enough on my plate sorting out the training and sorting out the players.
"That's what I'll concentrate on and I'm sure the board will decide what is right for Burnley.
"If every night's like this [after beating Blackpool] I'd really enjoy it [being manager]. But I know every night is not going to be like this.
"But the way the lads have responded, I'm sure we'll have more nights like this than not."