Nigerian FA to investigate league over suspected fraud
By Oluwashina Okeleji
BBC Sport, Lagos
Last updated on .From the section Football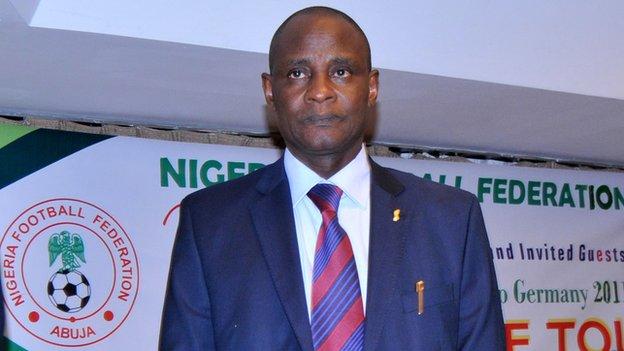 The Nigeria Football Federation (NFF) is investigating the Nigeria Premier League (NPL) for suspected fraud.
The leadership of the NPL has come under severe scrutiny amid accusations by external auditors that it mishandled millions of dollars in broadcast fees.
And the NFF has been ordered by the country's sports minister, Bolaji Abdulahi, to carry out an inquiry.
In a statement, Minister Abdulahi said: "The content of the external auditor's report, without prejudice to the veracity of the allegations made, is inimical to the development of football and sports in general.
"While we will exercise utmost restraint in interfering in these matters, we will not hesitate to discharge our full responsibilities as the foremost custodian of sports in Nigeria.
"The kind of issues at stake appears to neither serve the interest of Nigerian football nor that of Fifa."
The minister also revealed that he has referred the case to the NFF, which is the primary agency responsible for football, in order to avert an infringement on Fifa rules barring governmental intervention in football.
Premier League clubs have often threatened to boycott the league if the supervisory body (NPL) does not distribute outstanding revenue due to them.
Some are of the opinion that the body's failure to pay their share of sponsorship and TV rights stretched the lean finances of the clubs.
As the investigation escalated on Monday, the NFF president Aminu Maigari said the scandal is all the more embarrassing for football because it has always presented itself as being above the corruption that blights so much of Nigerian society.
"The NFF is highly concerned for the integrity of the Nigeria Premier League, which has been built to a presentable brand as a result of over 20 years of hard work, and which was recently rated as best in Africa," Maigari complained.
"We cannot afford to fold our arms and remain silent over such a matter that directly attacks the credibility of an important aspect of the Nigeria game.
"The NFF is deeply concerned and we are determined to get to the root of this matter."
Since the start of a huge television broadcast rights deal with Supersport in 2007, the NPL and all the country's clubs have been at loggerheads over remuneration.
The clubs demand a bigger share of the sponsorship money and have threatened not to play in the competition, although they have made U-turns in the end.