Tony Pulis says Stoke City are trying to evolve style
Last updated on .From the section Football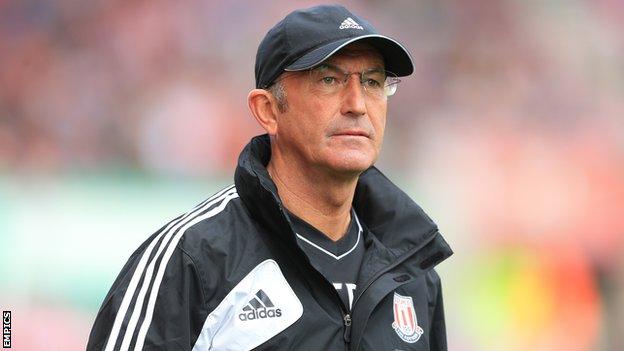 Stoke City manager Tony Pulis says the Potters are laying the foundations to evolve their style of football.
This is the Potters' fifth season in the Premier League, and 54-year-old Pulis wants the club to adapt as they improve their quality of players.
"We're trying to evolve and turn into a team that will play through the pitch quickly, but can play better small passes," he told BBC Radio Stoke.
"There's more continuity and build-up, but it's always through the pitch."
Stoke have previously drawn criticism for their style of football, including Arsenal boss Arsene Wenger, who accused the Potters of acting like a "rugby" team following a game against Tottenham and was incensed at the Ryan Shawcross tackle which broke Aaron Ramsey's leg in 2010.
However, Pulis says his side will continue to ignore their critics and stick to their footballing principles.
"We don't want to play it backwards and square, and pass back to the goalkeeper 50 times," he said.
"That's not the way I think football should be played."
Pulis, in his second spell in charge of the Potters, has guided the club to promotion to the Premier League and an FA Cup final during his nine-year association with the Staffordshire side.
And the former Bournemouth and Portsmouth manager has revealed he wants to help the club continue to build year-on-year for many seasons to come.
"I'm hoping to be here for a few more years, and I hope Peter [Coates - Stoke chairman] and the family are here for a few more years, and we've got to gradually move it on," Pulis said.
"That will suit some people, but won't suit others because they want immediate success and they always want their team to win.
"But hopefully we know which way we are going. It takes time, and it's the way to do it we think.
"I don't see myself anywhere else. I've got fantastic respect for the area. I enjoy the football club, and my relationship with the Coates family is first class."