Welsh star Joe Ledley set for his 'biggest game' against Barcelona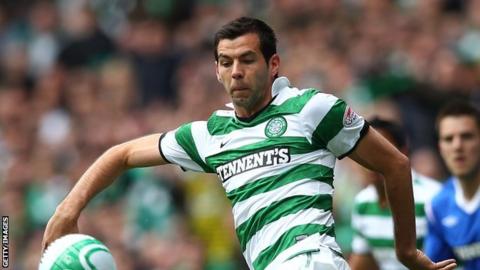 Welsh international Joe Ledley says playing for Celtic against Barcelona in the Champions League on Tuesday will be the biggest game of his career.
Ledley is set to step out at the Nou Camp against a star-studded Barcelona in a Group G match.
"Without a shadow of a doubt it will be the biggest game I will ever play in," said 25-year-old Ledley.
"[I will be] playing against the best players in the world, against the best team in the world."
But the former Cardiff City midfielder, who has been capped 43 times by Wales, says Celtic cannot be daunted by the trip to Spain.
"I will look forward to it - it's going to be a great challenge for me and the players and we just need to go out there and give 100%," he said.
"I don't see why we can't [come away with a result]. It's 11 v 11 so we have to go out there and believe.
"Hopefully [we can] nick a goal on the counter attack. Anything can happen."
Ledley says that the lure of Champions League football was one of the reasons he moved from Wales to play in Scotland.
"It's my third season [at Celtic]. Finally, we have got the step up [to the Champions League] and we are playing in, for me, the best competition of them all.
"It's one of the biggest achievements of my life.
"That was one of the reasons me and Adam [Matthews] moved to play Champions League football
"To me they [Barcelona] are the best team in the world. They have got the best players in the world.
"You line up in the tunnel and you'll see them - and you obviously need to pinch yourself.
"But after that, when the whistle goes, you are totally focused on what we need to do and that is hopefully getting the three points.
"That is, without a shadow of a doubt, very difficult, but on our day anything can happen and we have played some great football this season especially in the Champions League.
"We got our first away win [in Europe] for over 20-odd games the other day."
On Barcelona's global star Lionel Messi, of Argentina, Ledley said: "Anyone can say you can man mark him, but I don't think we will play like that. We need to defend as a unit."