Schalke's Lewis Holtby out to impress against Arsenal
By Alistair Magowan
BBC Sport
Last updated on .From the section Football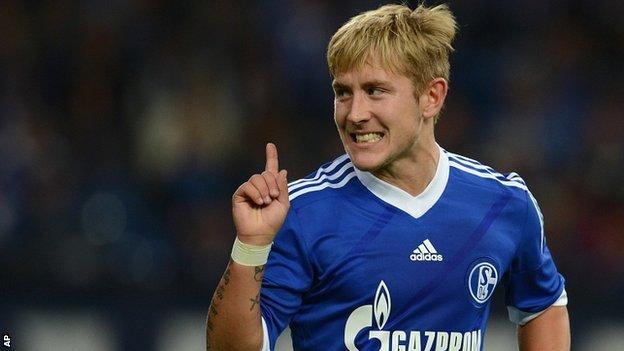 Deciding between England and Germany is not a new experience for Schalke midfielder Lewis Holtby.
The modest 22-year-old has an English father and a German mother - and his good form in the Bundesliga team this season has led to increased speculation that he could move to the Premier League when his current contract expires at the end of this campaign.
But speaking ahead of Schalke's Champions League tie with Arsenal on Wednesday, Holtby obviously has no regrets over his decision to choose Germany over England at international level.
Although he was born in Germany, Holtby's childhood was laced with a sense of Englishness thanks to his Liverpudlian father, Chris, who was stationed at the Rheindahlen RAF base in Monchengladbach and is a staunch Everton supporter.
Lewis admits that, as a kid, he dreamed of playing for the Three Lions. Yet once he was called up to the German Under-21 side a new sense of loyalty meant he continued his journey to their senior team, with England missing out on a burgeoning talent.
"Before I played for Germany, there was a slight hope," Holtby said of his England chances. "But when Germany called me up and I had my first game, I learned the German FA was absolutely fantastic and I'm really enjoying playing for Germany now.
"I didn't want to be a traitor [after playing for Germany's Under-21s] and if England called I probably would have said no. If you want to play for one country, you stick to that country and do your best for them. That's my point of view."
Given the current status of the English and German national teams, some may argue it was a shrewd move. And the former German Under-21 captain shows an impressive poise while discussing his development as a player and where his next move might be.
It is clear in talking to him that he has huge respect for England. But while he admits it would be a "dream" to play in the Premier League, he is careful to focus on the current season ahead.
As well as Everton, it just so happens that Arsenal are his other favourite English team so the prospect of performing well at the Emirates might not do his reputation any harm.
And it comes after he again stood out during a superb victory over local rivals Borussia Dortmund last weekend. Holtby has already notched up three goals this season, with Schalke only losing to Bayern Munich in all competitions.
"It was a great result to win against our biggest rivals," said Holtby of the win over Dortmund. "And it gave us much confidence to play against Arsenal on Wednesday.
"I think it will be a similar game to the one against Dortmund. Arsenal have a lot of pace, good football quality and of course a great football stadium with a big crowd so it will be difficult. But we are ready for the challenge and happy to play there.
"For me it was always a dream to play in the Premier League and it was always a team like Arsenal that I would like to play for. Now I play for Schalke and I am happy to be here.
"My agent is there to handle the rumours. I want to put all my concentration on football. I'm a Schalke player and I cannot be fussed in my head with other clubs who want to sign me or whatever. That's not my interest. I want to have a good season with Schalke and give my best each week and if my head is with other clubs or the Premier League or England then I would not be myself."
Holtby, who calls himself a "flexible midfielder" and can score with either foot, credits a large part of his progress to a spell at Mainz, where he was guided by coach Thomas Tuchel.
Now he is hoping Arsenal's Jack Wilshere is fit so he can test his skill against the England international, and is looking forward to meeting German team-mates Lukas Podolski and Per Mertesacker as well as ex-Evertonian Mikel Arteta.
His main concern, though, is earning a first win for Schalke on English soil. "Every record is there to be broken and we are confident," he said. "And especially for me I am motivated to win."
His first appearance on English soil could even go a long way towards shaping his future.