SPL continues talks over voting structure
Last updated on .From the section Football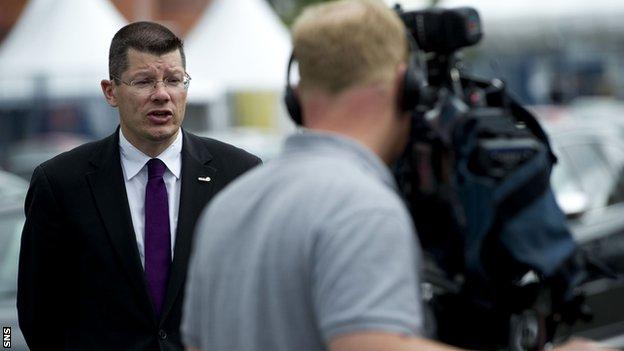 Scottish Premier League clubs will continue talks over potential changes to the body's voting structure after failing to reach a decision on Monday.
Clubs discussed the idea of moving to a 9-3 majority system across the board - some decisions require an 11-1 vote.
After its quarterly meeting at Hampden, Park, SPL chief executive Neil Doncaster said: "The debate around voting structure rumbles on.
"And that will be reconsidered by clubs on November 19."
Some clubs had complained in previous seasons that an 11-1 majority for certain issues created an "Old Firm" veto, allowing Glasgow giants Celtic and Rangers to vote in their mutual interests.
But, despite Rangers now playing in Division Three following financial problems, a change to the voting has not come quickly.
When asked whether there would be a vote next month, Doncaster said: "Who can say? We expected potentially a vote today.
"The clubs agreed it should be put back to November for further discussions, so let's wait and see.
"I think making any predictions on timescales, whether it's voting change or reconstruction, whatever it may be, is always flawed.
"We have to give these discussions time and we will see whether they will bear fruit."
League reconstruction was the other major topic of discussion, but no concrete proposals emerged and talks will continue with the Scottish Football League and the Scottish Football Association.
"There is a real desire for change within the game," Doncaster said.
"There is a public appetite for change and that is matched by clubs as well.
"So hopefully we can work together to come up with a set of proposals on which we will get a consensus.
"Different clubs have different views about what the ideal format is. I think it's important on any change that you form a consensus.
"So we'll be working with all parties within Scottish football, our clubs and obviously the SFA and SFL, to see if we can agree exactly what that consensus should be."
SPL clubs are up to date with early season revenue from commercial partners and Doncaster is pleased with the way the league is coping without Rangers.
"That's for other people to judge, but certainly we are delighted to be back playing football," he said.
"Crowds have held up very well, commercial income is holding up pretty well in terms of central revenues."