Truro City bidders confident of concluding deal
Last updated on .From the section Football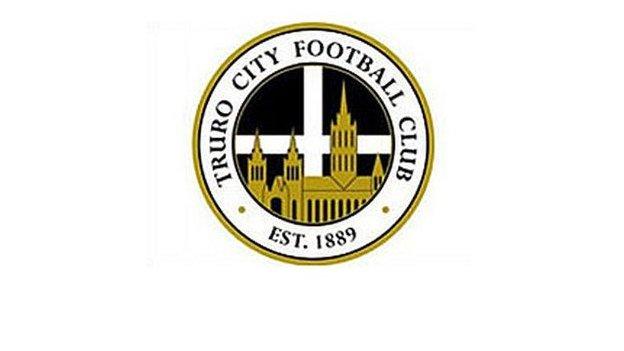 The prospective new owners of Truro City say they are hopeful of concluding a deal to take over the club by the beginning of January.
Pete Masters and Philip Perryman have been given preferred bidder status until 4 January and have agreed to pay players' wages in the interim.
"We know exactly what we're getting into," Masters told BBC Radio Cornwall.
"The administrator has agreed to cover the running costs and we've agreed to meet the wages," he added.
Truro appeared ready to be expelled from the Football Conference before the duo to the league to cover the costs of sides travelling to Treyew Road should the club fold and their results be expunged.
The Blue Square Bet South club after owner and left the club to fight
"I'm semi-retired and have experience in insolvencies," Masters said after
"I'm pretty wised up to that game and I look at this as a challenge."
It is not yet known when a deal will be concluded for the duo to take over the club, but Masters is confident it will happen.
"The actual speed of it getting done relies on what people may do at the creditors' meeting.
"There's a few warts on the balance sheet that need to be sorted, but I'm sure that's going to come out in the fullness of time."
One of the main issues lies over the club's Treyew Road ground, which is owed by JoJo Investments Limited.
A lease needs to be agreed with them in order to continue to play matches and Masters says he has no intention of allowing the club to play elsewhere.
"We're looking to operate the club from here, this ground, that's it.
"I've had all sorts of phone calls and emails and I'm sure it'll all come out in the fullness of time.
"The important thing is to secure the ground that we play on and obviously the club."
Truro manager Lee Hodges was at the meeting the pair held with fans and staff and says he was impressed by their attitude.
"I met them on Saturday and the positiveness of meeting them and speaking to them with Jake Ash (Truro captain) was really good, it went really well.
"They've promised us wages and they know about the money owed to us as well.
"If they can do the deal they'll be looking to pay that as well which is fantastic."
Hodges and his players have not been paid in full since the summer and some of his squad have left to find other clubs.
But, after having matches with Dover Athletic and Eastleigh postponed due to the crisis, Hodges must get his squad ready for a trip to Staines Town on Tuesday night.
"One or two of the boys went out and played some games over the weekend. But now it's a case of getting them all ready for a game on Tuesday.
"They had been speaking to other clubs, but I haven't had any texts saying they are leaving, so I'm expecting to take a full quota to take to Staines."