Paolo Di Canio stays at Swindon after new chairman talks
Last updated on .From the section Football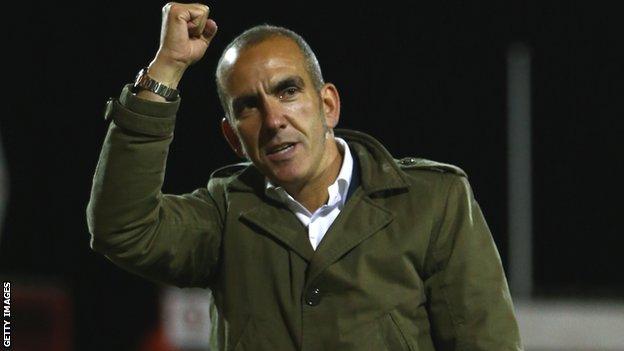 Manager Paolo Di Canio says he is feeling positive about Swindon's future after meeting with their new chairman.
Sir William Patey replaced Jeremy Wray - the man behind Di Canio's appointment - in the role last week, at the request of majority shareholder Andrew Black.
The Italian insisted he would need "reassurances" from the board that they were committed to his plans.
After meeting with Patey, Di Canio told BBC Wiltshire: "The words that he said to me are more than positive."
He continued: "After we spent an hour together, even if I was angry from the game [against Scunthorpe], I was happy thinking about what he said to me about the future and about me.
"I can't wait. We have to think that from now we can work for the future."
Wray and Di Canio helped rejuvenate the former Premier League club during their 18-month partnership, with relegation in 2011 followed by the League Two title 12 months later.
The pair were known to have a close relationship and Wray publicly backed his outspoken manager on numerous occasions during his tenure.
Swindon were placed under a Football League transfer embargo earlier this month after they exceeded the fixed wage and fee cap, which can only be 65% of a club's turnover.
However, Di Canio hit out at the board, suggesting they no longer supported his goal of securing back-to-back promotions, and Patey's appointment prompted concerns the former Celtic, Sheffield Wednesday, West Ham and Charlton striker might follow Wray out of the County Ground.
Following the meeting with Patey, he insisted he remained loyal to the club.
"Some people can take the lines that I am only loyal to Jeremy; I am loyal to Jeremy but I am loyal to the project he proposed to me on the first day," he said.
"The new chairman is committed and there is also the environment around me, which is the club and the fans.
"I can go out for dinner every day with Jeremy for the rest of my life and say thanks, but there is a job.
"I will keep going but I wanted to be sure. I said some words to make an alert, an alarm about what was going on."