Kettering Town escape Southern League expulsion
Last updated on .From the section Football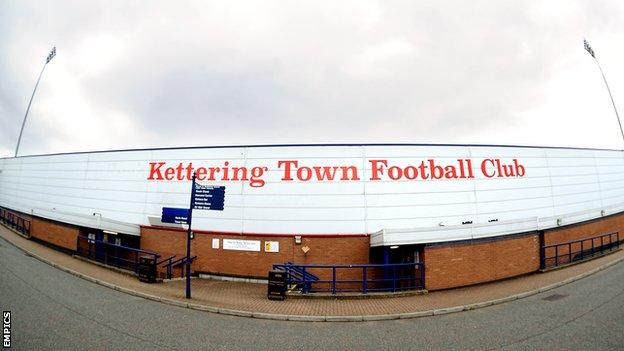 The Southern Football League has allowed Kettering Town to remain in the competition and has lifted the club's transfer embargo.
The league's board were satisfied that the Poppies had proved their viability.
Kettering's last four games had been postponed because of a lack of players, but they are now free to make signings.
Saturday's Southern Premier match at Barwell has been postponed in order to give the Poppies time to bring in new squad members.
Owner Imraan Ladak is hopeful that proposed investment will still be forthcoming.
He told BBC Radio Northampton: "There are a few things to be ironed but, as it stands, nobody's invested any physical money.
"I have absolutely no intention of being involved beyond any period that is practically possible. As soon as the right people can come in it will be brilliant for everyone."
Caretaker manager Alan Doyle said: "I can actually talk to people about football now.
"We're going to literally need a new squad. I've got quite a few people lined up. The problem is I don't think we've got a budget so it will be things like petrol allowances."
It is understood that players owed money - including those that have left - will be paid in monthly instalments from November to January, assuming the investment occurs.
In a statement the Southern Football League board, which had given Kettering seven days to "satisfy certain conditions", said it still had concerns over "several other issues in need of urgent attention, not least the power supply to Nene Park".
The electricity was shut off at the club's ground in October because of a dispute with the energy supplier, but the Poppies would be allowed to groundshare with another team for up to 13 weeks.
The statement added: "The board, nevertheless, is mindful of its responsibility to all of the league's member clubs and, while wishing to be as helpful as possible to any club experiencing difficulties of any kind, must ultimately make decisions that are within the bounds of league rules."
The Poppies are bottom of the Southern Premier following a 10-point deduction.
That punishment was applied when the club entered a CVA (company voluntary agreement) - an arrangement to repay part of their debts to creditors - but it is understood that repayments are not up to date and the club face the possibility of having a winding-up petition lodged against them.