Manchester United 'will continue to buy established stars'
By Richard Conway
BBC Sport
Last updated on .From the section Football82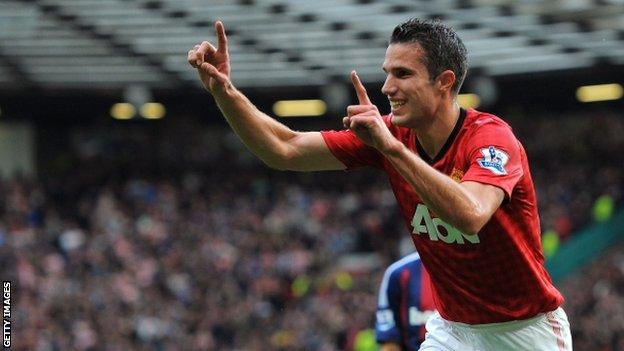 Manchester United's vice-chairman says the club will continue to "wholeheartedly" back manager Sir Alex Ferguson to buy established stars.
United spent £24m on Arsenal striker Robin van Persie this summer and Ed Woodward says they will continue to spend to build the squad.
Woodward told BBC Sport: "If a top star who is over 25 comes along that Sir Alex wants, he'll be supported.
"Every player that Sir Alex has gone after has been approved."
He added: "We're committed to making sure we have the best squad that we can have."
United reported a 3.3% fall in revenue to £320.3m for the year to 30 June, after their early elimination from the Champions League last season, though net profit rose 79.2% to £23.3m.
But Woodward, who speaks on a daily basis to Florida-based owners the Glazers, insists the club remain a force in the transfer market.
As well as Van Persie, United bought in Shinji Kagawa from Borussia Dortmund, Nick Powell from Crewe and Dutch left-back Alexander Buttner this summer.
Executive vice-chairman Woodward said: "The Robin van Persie deal perhaps stands out as people incorrectly viewed that we had a policy of only buying young players.
"The DNA of the club has always been to buy young players and to develop players. And that's what Sir Alex has always preferred to do.
"But equally he's always taken the view that if a top player comes along that he wants then, once every few years, he'll do it. And he was backed to do that in a wholehearted manner and we'll continue to do that.
"Ever since the takeover the Glazers have supported Sir Alex Ferguson 100% in the transfer market. Every player that he has gone after, in conjunction with [chief executive] David Gill has been signed off and approved by Joel Glazer.
"Joel's never said no. It's not about how much money the club had, the club has always had sufficient funds to buy players and that position is even stronger going forward because of our financial strength."
Some supporters fear that the level of debt which the leveraged buy-out by the Glazers in 2005 imposed on the club has left United in a vulnerable position or, at best, is limiting their competitive advantage.
And after an initial public offering on the New York stock exchange this summer, there was speculation that the Glazers were considering selling the club.
But Woodward has dismissed speculation that the Glazer family will look to sell the club in the near future and believes that the American owners are here to stay.
"They don't view us as even being at base camp in terms of climbing the mountain of what we can do with this business," said Woodward.
"Our debt, taking a house comparison, is like a mortgage. And it's small relative to the value of the business. And the person living inside it is getting richer and richer and richer in terms of income every year.
"We're verging on £100m more a year of commercial revenue than when the Glazers bought the club."
United also face the challenge of complying with Uefa's Financial Fair Play (FFP) rules, which broadly state that clubs cannot spend more than they make.
Negotiations are under way within the Premier League about introducing their own "break-even" regulations that would see clubs having to balance their books and Woodward is confident of success.
"We're supportive of it [in the Premier League]," he said.
"The top six or seven clubs in the Premier League are already having to abide by FFP. The Championship and below have their own version of FFP.
"So there's only 13 or 14 clubs in the middle that don't. Our view is that it's beneficial and good for football to get their [financial] houses in order. We've seen too many clubs run into financial difficulties over the years."
For now, Woodward is determined to steer Manchester United towards growing its revenue and continuing to challenge for the Premier League title and the Champions League.
But with Sir Alex Ferguson turning 70, thoughts have begun to turn to who could eventually succeed the Scot.
Woodward makes it clear that while the effect on the business and the desire to maintain United's legacy of success has crossed their minds, there's no sign that Britain's most successful ever manager is ready to move on.
"We have a view as to what that process [appointing a new manager] will look like in terms of finding a replacement and what type of manager we want and how and when we'll go about it.
"But it's in the drawer and long may it stay in the drawer."