Roberto Di Matteo warns Chelsea squad they must win home games
Last updated on .From the section Football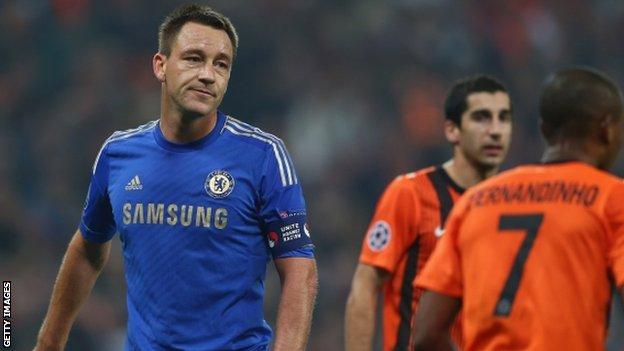 Roberto Di Matteo has warned his Chelsea players they must win their remaining home games to avoid becoming the first Champions League holders to be knocked out at the group stage.
Di Matteo now believes his side must beat the same opponents at Stamford Bridge to have any chance of qualifying for the last-16 of the competition.
"We need to win our two home games remaining for sure," Di Matteo said.
On a night when Chelsea's defence was overrun by the rampant Ukranian champions, there was further disappointment as Frank Lampard limped off after just 18 minutes with a recurrance of the calf injury that has ruled him out for the past three weeks. The only positive was Juventus managing a draw in Denmark against Nordsjaelland.
"The consolation tonight is that Juventus drew in Denmark," Di Matteo added. "It just shows how the Champions League is a very competitive competition.
"But certainly, we need to win our home game against Shakhtar. The early goal helped them massively, with a game like that it unsettled us a little bit and we never got into our rhythm. I was confident we'd score a goal at least. In the second half we performed better but they punished us with that second goal.
"We tried to control the midfield with the changes I made to put in Hazard [in place of the injured Frank Lampard] and it was a question of us being too individualistic in the first half, and of being too long and stretched in our play.
Chelsea defender David Luiz admitted he had been shocked by the performance as Alex Teixeira and Fernandinho gave Shakhtar a 2-0 lead, only for Oscar to grab a late consolation. "It was a difficult game. Shakhtar played well and deserved it," Luiz said.
"I don't know what happened. The Shakhtar players are intelligent and didn't give us any opportunities.
"We didn't play well, it is a shock after some good performances in the Champions League. Congratulations to Shaktar. Sometimes you can't play well, tonight was that. Maybe now we think just of the next game. Chelsea is a big club and we need a win."
Shakhtar coach Mircea Lucescu said his side had benefited from an air of complacency about Chelsea in the early minutes.
"We're playing better, and better, this is probably the best game Shakhtar has played," Lucescu said.
"We played spectacular football. The score easily could have been 4-1 to us. Now it's time to think about the return match in London.
"Chelsea opened the match too relaxed, but when they started to press and tried to score, it was too late, we were already in control of the match."