Ex-Wales striker Nathan Blake favours black players union
Last updated on .From the section Football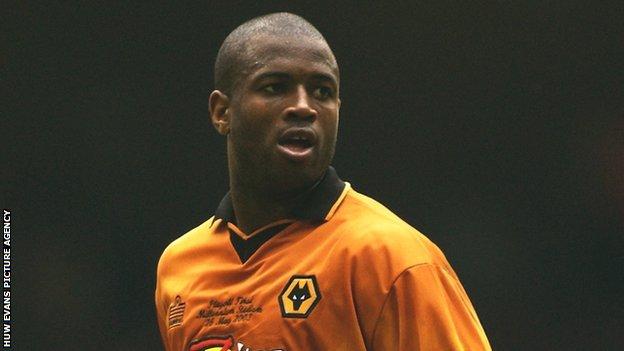 Former Wales striker Nathan Blake says a black players' union is the only way to achieve equality in football.
Over 30 players refused to wear T-shirts supporting the Kick It Out anti-racism campaign to protest at a perceived lack of progress.
"This issue has been around for years and it was always going to come to a head," Blake told BBC Radio 5 Live.
"It's only going to be realised and sorted out with the power of black influence, black players standing up as they did on Saturday.
"We're not trying to create a division but the situation has gone on for so long and there appears to be so little done, that sooner or later you have to stand up and do it for yourself.
"The FA or the PFA can't complain about black players wanting to go their own way when in the last 10, 20, 30 years when these issues have arisen, they haven't been dealt with to the degree that I would deal with it.
"The problem is that the people making the decisions will never know how it feels to be racially abused.
"We just want equality. Let's Kick Racism Out Of Football? Show Racism The Red Card? This is 2012, the sheer fact that those organisations are still around shouldn't be commended, people should be looking and hanging their head in shame.
"In 2012 we're supposed to be a multi-cultural society and we're still having to go our separate way and try and find some sort of justice in what we do."
Peter Herbert, who chairs the Society of Black Lawyers and helped set up a Black Police Association, has revealed that discussions over forming a separate black footballers' association at a preliminary stage.
Former Cardiff, Blackburn, Wolves, Bolton, Sheffield United, Leicester and Newport County striker Blake says he is in favour of the move.
"There hasn't been any power in the hands of any black person in the decision-making process of punishment that's dished out," Blake added.
"I find it quite remarkable really that as a black player - personally I've been racially abused - being given what the law is, what I'm able to do.
"I'm told what I can and can't do by the Football Association or the PFA and frankly I just say to myself, 'well it's been a complete waste of time'."