Jimmy Phillips to prepare Bolton for Middlesbrough game
Last updated on .From the section Football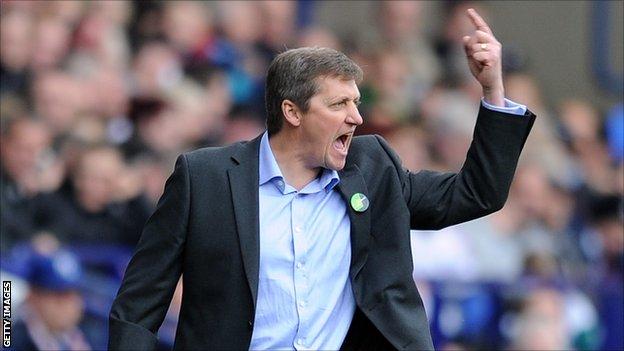 Jimmy Phillips says he has been told to prepare the Bolton team to face Middlesbrough on Saturday, despite the imminent arrival of Dougie Freedman.
But Wanderers have yet to officially confirm that the 38-year-old Scot will replace Owen Coyle.
"Many people would think that after tonight, that would have been it," said Phillips after the 2-2 draw at Wolves.
"But we've been asked to go into the Middlesbrough game and that's what we'll do.
"We've thoroughly enjoyed it and we said from the outset that we would do it for as long as we were asked to do it for.
"The players have enjoyed working with us, we've enjoyed improving them and hopefully, come the Middlesbrough game we'll get some more points."
Under Phillips, Wanderers have collected four points from two matches and snatched a point at Molineux on Tuesday thanks to a late goal from former Wolves midfielder Mark Davies.
But Phillips does not know where he or coaches Sammy Lee and Julian Darby will fit into Freedman's backroom staff.
He told BBC Radio Manchester: "Dougie will have his own plans and what he sees is the way forward for the club.
"Whether that involves using some of the existing staff, whether he wants to use their services or whether he wants to bring his own people with him, only Dougie can answer that."