Ipswich Town considering 34 manager candidates
Last updated on .From the section Football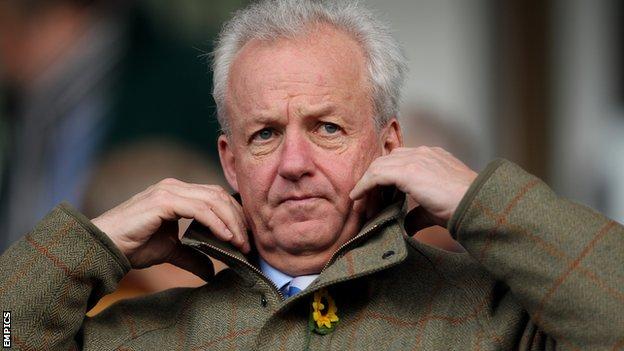 Ipswich Town chief executive Simon Clegg says he has made contact with potential replacements for Paul Jewell from "a long list of about 34 names".
with the club bottom of the Championship and winless in 11 games.
Former Charlton boss Alan Curbishley and ex-Wolves manager Mick McCarthy are among the favourites for the job.
"There's a fairly long list that's in the process of being shortened at the moment," Clegg told BBC Radio Suffolk.
"The key is getting the right person as quickly as possible. Conversations are now starting to be had."
Former England striker Alan Shearer could also feature on the shortlist - it is believed the one-time Newcastle manager was high on Ipswich owner Marcus Evans's list of candidates before Jewell was appointed.
And Harry Redknapp, who counts Tottenham, West Ham and Southampton among his previous clubs, had previously been
Whoever takes the reins at Portman Road will become the fourth different manager to work under Evans, who has so far seen little return for his financial commitment to the club since he became owner five years ago.
"Marcus and I didn't wake up this morning and start talking about this situation. It's something we've been talking about for a bit," said Clegg.
"One of the things that is the Ipswich Town way is supporting our manager and giving them every opportunity to turn things around.
"And from a couple of candidates I've spoken to already, that is an attractive thing - they're not going to be fired on a whim off the back of one or two results."
On the pitch, Ipswich seem to have gone backwards rather than make progress in the last five years, failing to finish higher than the eighth place they secured in Evans's first year at the club and ending last season in 15th.
They have also relied heavily on loan signings this term - eight in total - leading supporters to become restless with how the club is run.
But Clegg said: "I'm not considering my position. I believe at times like this you need strong leadership and that's what I'm prepared to provide.
"I don't believe we're in a mess. I accept we're not in a good position at the moment. But the focus has to be about looking forward and looking up. I'm not prepared to be in this position in a couple of months' time."
And Clegg added that Jewell's replacement will be expected to do more than simply keep Town in the Championship this season.
"My aspirations are beyond staying up," he said. "If that's what we have to take then that's the bare minimum. But my aspirations would certainly be higher."