Hearts: SPL imposes new registration embargo for wage delays
Last updated on .From the section Football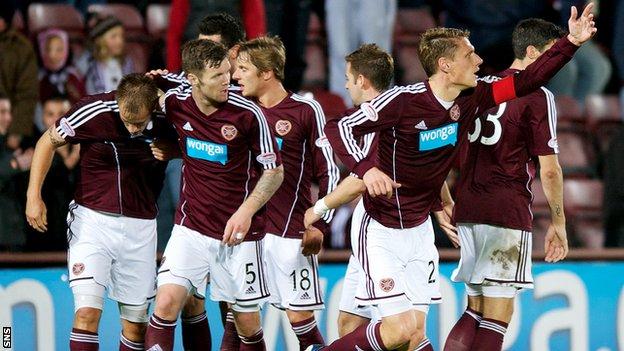 The Scottish Premier League has banned Hearts from registering any new players until 23 December for the delayed payment of October salaries.
The Edinburgh club were reprimanded and warned by the SPL this week for the same problem in September.
On both occasions, six first-team players and manager John McGlynn were not paid on time.
A ban on player registrations is now an automatic trigger when any SPL club is late with payments.
The ban means that Hearts cannot sign free agents outside the transfer window.
The SPL disciplinary subcommittee considering the matter consisted of chief executive Neil Doncaster, secretary Iain Blair and Dundee United chairman Steven Thompson.
"Clearly, the option of signing out-of-contract players is not open to Hearts now until at least Christmas Eve, so I think there is a meaningful sanction there," Doncaster told BBC Scotland.
"This is a second offence. The first offence, we believe, warranted a warning and a reprimand.
"We think a 60-day registration embargo is the appropriate sanction and we hope very much that we won't be here again."
A statement from the league read: "A subcommittee of the Scottish Premier League Board today considered a charge against Heart of Midlothian Football Club under SPL Rule A6.21, which concerned the club's failure to pay coaching staff and players on time in October.
"The club satisfied the subcommittee that all outstanding wages from October had now been paid and, accordingly, the player registration embargo, which arose from that failure, has now been lifted.
"The charge under SPL Rule A6.21 was admitted by the club. The decision of the sub-committee was to make Heart of Midlothian Football Club immediately subject to a further player registration embargo of 60 days.
"The club will be embargoed from registering any professional players up to, and including, 23 December 2012."
Hearts were late paying players four times last season and the SPL issued a demand in January that they pay players by a certain date following an official complaint from the players' union.
However, their previous record was not taken into account by the SPL committee since the financial rules that have been broken are new to this campaign.