FA announces five-year plan to boost women's football
By Sam Sheringham
BBC Sport at Wembley
Last updated on .From the section Football197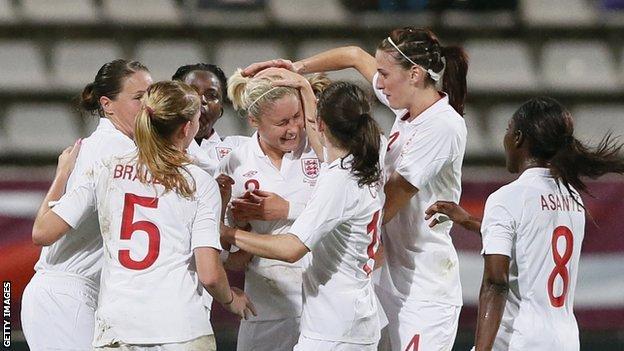 The Football Association launched its five-year plan for the women's game amid plenty of fanfare at Wembley Stadium on Wednesday.
There was a snazzy promotional video, a high-profile panel featuring England coach Hope Powell and Culture, Media and Sport Secretary Maria Miller, and even an unlikely round of applause at the end from the traditionally sceptical journalists.
But as with all mission statements, the FA's "Game Changer" document contained almost as many questions as answers.
Here, BBC Sport picks out the reasons to be optimistic about the future of the women's game, and sounds one or two notes of caution.
GROUNDS FOR OPTIMISM
Rio calling:
"Women's football used to be ridiculed, but not any more." The words of England World Cup winner Sir Bobby Charlton after watching the women's Team GB compete at London 2012. The Manchester United legend wasn't the only person to be won over as women's football opened itself up to a whole new audience on the biggest sporting stage of all.
Great Britain's 1-0 group victory over Brazil at Wembley was watched by more than 70,000 fans and drew a peak audience of four million on BBC One. Speaking at the launch, FA general secretary Alex Horne pledged to hold talks with the other home nations and Fifa about entering a Team GB women's team in the 2016 Games in Rio.
St George's Park:
The FA's glistening new Centre of Excellence is not only aimed at producing the next Wayne Rooney or Steven Gerrard. It will feature an elite performance unit for the women's game aimed at producing the best young players and a new head of elite women's development to oversee a mentoring scheme for female coaches.
Super League expansion:
At present, Arsenal, Everton, Chelsea and Liverpool are the only men's Premier League clubs with female equivalents in the eight-team Women's Super League. As well as improving playing standards, the proposed expansion to two divisions is expected to encourage more high-profile men's clubs to launch women's teams, with Manchester City among the first to have registered an interest in getting involved.
"We've had inquiries from big men's football clubs about when the process is opening up and I'm hopeful we'll see some big names in there," revealed Kelly Simmons, the FA's head of the national game.
"We'd like to see more men's clubs getting behind their women's teams, integrating their resources, stadia, training facilities and coaching expertise. The more support they give them the faster the game will grow."
Commercial gain:
After observing the high profile enjoyed by women's football in Germany during the 2011 World Cup, the FA has promised to give it an identity and brand of its own by selling off broadcasting and commercial rights separately from the men's game.
"Seeing how engaged the sponsors were in Germany was the lightbulb moment for me," says Horne. "We're looking at how we can connect and talk to broadcasters and commercial partners about telling that story so you can see the girls developing through the talent programmes, the WSL programmes and into the national team setup and tell a more meaningful story and engage with a different population."
NOTES OF CAUTION
Playing catch-up:
While she welcomed the FA proposals, coach Hope Powell said England were still playing catch-up off the field. They have failed to get beyond the quarter-finals of the past two World Cups or the 2012 Olympics and when England did reach the final of the 2009 European Championship they were thrashed 6-2 by Germany.
"We have to remember that while we are doing things, the likes of Germany and France are doing things too, and at the moment they are ahead of us, it's no lie," said Powell. "Germany have a complete structure in place that is sound and concrete but that has taken them 20 years. This gives us some direction but we are catching up."
Money Gap:
The extra £3.5m to be pumped into women's football by the FA over the next five years is put into stark perspective by the Premier League's £3bn television deal with BT and Sky. Until more Premier League clubs follow the examples of Arsenal and Birmingham - the Super League champions and runners-up respectively - by investing in their female team, the women's game will continue to operate in a different financial universe.
"The women's game under the FA is 20 years old, while men's game next year is 150 years old, so it is slightly false parallel to connect the two," says Horne. "But Arsenal and Birmingham are great examples of what football can do. They realise that if they invest a substantial sum of money in women's football they are connecting to 50% of the population and can derive real benefits."
Omens from America:
Enthusiasm for the Women's Super League as it enters its third season should be tempered by the experience of the United States, which, despite boasting the top-ranked national team in the world, cannot seem to generate enough enthusiasm to keep a successful league going. The Women's United Soccer Association folded in 2003 after three seasons, the same period of time the Women's Professional Soccer League lasted before it folded in January, leaving several top players out of work.
Participation gap:
Just hours after the FA announced its pledge to make women's football the second-highest participation sport, the Women's Sport and Fitness Foundation issued a warning to MPs that women would be failed by the Olympic legacy unless more was done to encourage girls to take up sport. WSSF research found that, at the age of 14, only 12% of girls are doing enough physical activity, which is half the number for boys.
"We have to look at the reasons why girls drop out at 14," says Powell. "How do we keep them in the game, how do we give them opportunities to stay in the game? Sometimes it is about whether there is a career pathway for females. Role models have a big part to play in that."