Scotland coach critical of referee after Euro 2013 play-off loss in Spain
Last updated on .From the section Football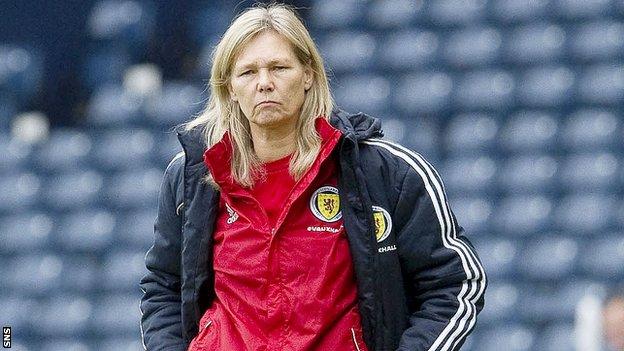 Scotland coach Anna Signeul criticised referee Bibiana Steinhaus after Scotland's late loss to Spain in their Euro 2013 play-off.
Spain scored in the last few seconds of extra-time, just after missing a penalty, to win 4-3 on aggregate.
"It's sad when referees decide these kind of games," an emotional Signeul told BBC Scotland.
"I really don't understand how this happened. How can any team be so unlucky?"
Following Saturday's 1-1 draw at Hampden, Scotland twice took the lead in Madrid with goals from Emma Mitchell and Kim Little.
But they were pegged back on both occasions in a match that started slowly, only to develop into a thrilling contest.
Scotland captain Gemma Fay saved a penalty in the last minute of extra-time but further time was played by the German officials and Vero, who had missed from the spot, volleyed home the winner with what proved to be the last kick of the ball.
"I must say that I think we had the referees against us again," added Signeul.
"It was in overtime when they scored and we should have had a penalty at home.
"I'm lost for words. All I can say is that I am very, very proud of all of the players.
"We had a fantastic campaign and I don't think we deserved to end it like this."
Fay, who also saved a penalty in the first leg, was also bitterly disappointed to miss out on a place in Sweden next year.
"I guess it feels like having your heart ripped out," she said.
"We gave everything we had and I think over the piece we were the better team. I don't think what happened was fair but we don't talk about luck.
"We deserve to be in Sweden but we're not so our next goal has to be Canada 2015 [Women's World Cup]."
The late penalty award was given for handball when a Spanish shot flashed into a congested area, and Fay made a great leap to push away Vero's spot-kick.
"It's been handballs galore in this tie," said Fay. "One of the girls said to me, 'how can we save two penalties and still go out?'
"I did my job (to save the penalty) but it's just unfortunate I couldn't get to the other three goals.
"I'm going to play them back in my mind for some time."
Scotland may have been denied a first appearance at a major tournament but Signeul is convinced better times are ahead.
"If you look at how young this team, that is a positive thing," added the Swede. "They have achieved so much together already.
"We have such a young and promising team on the pitch."
Four years ago, the Scots suffered similar heartache, missing out on the European Championship finals on the away goals rule after a play-off with Russia.