Rio and Anton Ferdinand criticise FA and PFA over Terry race row
Last updated on .From the section Football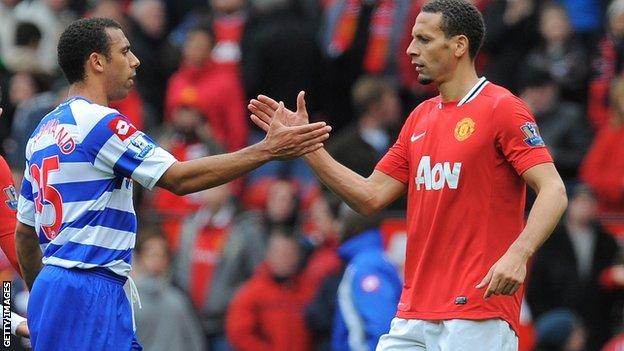 Rio and Anton Ferdinand have criticised England's football authorities for not doing enough to combat racism, arguing "deep divisions" have been exposed.
However, in a joint statement, the brothers appeared to dismiss the idea of a breakaway body to combat racism.
They said they are "committed to working with football's existing organisations" to address problems.
Their statement came just over a year after John Terry racially abused Anton in a Premier League game last October.
Terry was eventually banned for four games by the Football Association after the Chelsea defender was initially cleared of wrongdoing in court earlier this year.
Several leading Premier League players, including the Ferdinand brothers, refused to wear T-shirts supporting the anti-racism group Kick It Out at the weekend over a perceived lack of action.
But the Ferdinands and other black players are also unhappy with the FA and the Professional Footballers' Association.
There has even been talk about the formation of a black footballers' association.
"It has been a year since the incident at Loftus Road," read a statement from the Ferdinands issued on Wednesday. "During that time, some of the deep divisions that exist in football have been exposed.
"In the coming months, there will be ongoing discussions, we are sure, on finding a way forward. We intend to participate in these discussions, along with numerous other current and ex-professionals of all races, from the grassroots upwards, across the football community as a whole.
"On the issue of Kick It Out, we would like to go on record to say what fantastic work they have done in the past regarding education and awareness.
"However, times change and organisations need to change with them. We are more than happy to join the discussion, privately, to make Kick It Out more relevant in its fight to stamp out racism in football.
"Although we have been left disappointed by the PFA and the FA's actions over the last year, as a family, we are committed to working with football's existing organisations towards the betterment of the game and to achieve immediate action."
Gordon Taylor, chief executive of PFA, told the BBC that he welcomed the statement, adding that he would be "very happy to involve" the Ferdinands in future discussions.
He also pointed out that his organisation had already issued a six-point action plan to deal with racism.
Kick It Out released its own statement, acknowledging the "hurt that many people have gone through over the last 12 months, none more so than the Ferdinand family themselves".
The statement continued: "We will continue to work across the campaigning and diversity agenda with all partners to ensure the grievances of players are concluded fairly, thoroughly and swiftly."
Meanwhile, Taylor says Chelsea have sent the wrong message on racism by allowing Terry to keep the captain's armband.
The defender was fined £220,000 and banned for four domestic matches for the incident involving Anton Ferdinand at Loftus Road last year.
The FA panel's ruling came after Terry was cleared by magistrates of racially abusing the QPR player.
Taylor said: "Terry remaining Chelsea captain sends out the wrong message to people who've been on the receiving end of abuse in no matter of what context.
"Clubs take racism seriously. Nobody wants to be accused of being racist, nobody wants to be accused of using racist language, so at times you get clubs denying, and pulling the wagons round.
"To some extent that has exacerbated the problem. We have to be big enough to accept what's happened, to make a full apology quickly, to learn from it, to have the awareness programmes and to move on as a club.
"It's not just the players - we need the managers, the coaching staff, the board of directors all to sign into that programme of apologising, reconciliation, moving forward and being part of that."
Chelsea declined to comment, but have previously said Terry was fined a club record, without revealing the amount.