Swansea's Ashley Williams wary of breakaway black players union
Last updated on .From the section Football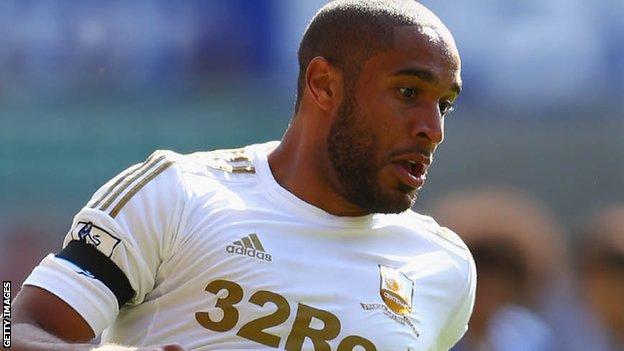 Swansea and Wales captain Ashley Williams has said he would not be in favour of a separate union for black players.
The Professional Footballers' Association has been criticised for not doing enough to tackle racism.
Discussions over forming a black footballers' association are at a preliminary stage but Williams does not believe a separate group is the answer.
"I don't think it should be a breakaway group," he said.
"Personally I can't see how that can resolve it. That's a separation issue and I wouldn't really support that."
Peter Herbert, who chairs the Society of Black Lawyers, revealed that discussions have begun over forming a separate black footballers' association.
And former Wales striker Nathan Blake says a black players' union is the only way to achieve equality in football.
More than 30 players refused to wear T-shirts supporting the Kick It Out anti-racism campaign last weekend to protest at a perceived lack of progress.
Williams and his Swansea team-mates did not wear the T-shirts before their 2-1 win over Wigan Athletic in the Premier League.
Rio and Anton Ferdinand have criticised the Football Association and the Professional Footballers' Association over the John Terry race row.
The Professional Footballers' Association has issued a six-point action plan to deal with racism, saying it is now time for tougher penalties.
"It's obvious more needs to be done, I think everyone's in agreement with that," Williams said.
"We [Swansea City players] didn't wear the T-shirts because there were a few players that felt they didn't want to wear them.
"Gordon Taylor's [PFA chief] speaking about a six point plan and I don't think that would have happened if everyone had worn the T-shirts. I think the point was made."
Williams this week put pen to paper on a new three-year contract with Swansea, tying him to the club until 2015.
The defender, who joined the Swans from Stockport in 2008, had two years remaining on his existing deal which was agreed last year.
And Williams, who recently replaced Aaron Ramsey as Wales captain, says he did not need much persuading to extend his stay at the Liberty Stadium.
"I'm the captain on the pitch and I'm playing every week at a Premier League team so there was not much thinking to do," Williams said.
"Things had been dragging on a bit, but that was [over] a few other issues separately. I think the contract got sorted pretty quick.
"Both parties were happy and there was no rush, [we had to] just make sure it was right and eventually we got it done."