Champions League key for Arsenal manager Arsene Wenger
By David Ornstein
BBC Sport
Last updated on .From the section Football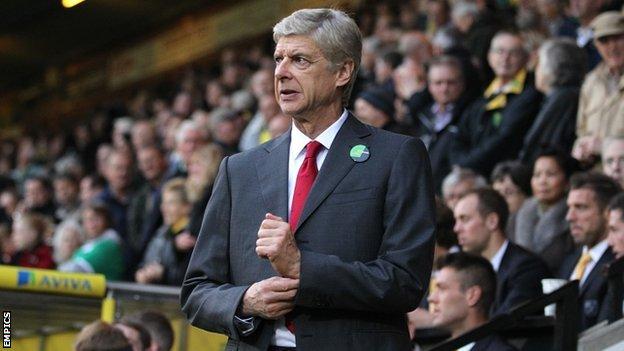 Arsene Wenger has said Champions League qualification is more important than winning the FA Cup or League Cup.
"There are five trophies," the Arsenal manager told the club's shareholders.
"The first is to win the Premiership, second is to win the Champions League, third is to qualify for the Champions League, fourth is to win the FA Cup, and fifth is to win the League Cup."
The Frenchman added: "I say that because if you want to attract the best players, they don't ask if you won the League Cup, they ask if you play in the Champions League."
Wenger was last to speak at a fractious annual shareholders' meeting but received warm applause from the floor.
He started by saying "sorry for last night" in reference to Arsenal's Champions League group stage defeat by Schalke, which followed Saturday's shock Premier League loss at Norwich.
He also acknowledged there was "a lot of dissatisfaction" among supporters but urged them not to "go overboard", insisting his side were capable of winning trophies.
"This team started [the season] in a very dynamic and promising way," said Wenger. "We hit the wall in the last two games, which was a bit unexplainable.
"But the attitude and focus of the team every day is fantastic. I am optimistic we will have a good season and the players will show I am right."
Wenger's speech was somewhat subdued compared with his rousing efforts at previous AGMs and there was applause, rather than the usual standing ovation, when he finished.
However, his reception was far more generous than those given to chairman Peter Hill-Wood, majority shareholder Stan Kroenke and chief executive Ivan Gazidis.
Hill-Wood, a 76-year-old former Eton College pupil, was regularly heckled for the manner in which he engaged with the audience and dealt with pre-submitted questions.
When a significant number of shareholders voted against Gazidis being re-elected to the board of directors - though fewer than those who voted in favour - Hill-Wood remarked "same lot", referring to those who had also voted against the re-election of other directors.
At the end of the AGM he avoided a question on whether Arsenal would consider making changes to the ageing, all-male board, saying only: "Thank you for your interest in our affairs."
Gazidis opened proceedings with a impressive speech highlighting Arsenal's financial health and readiness for Uefa's Financial Fair Play rules.
"In the next two years we will have the financial resources to sit and compete among the leading clubs in the world, which is an extraordinary achievement," he said.
"Financial success is relevant because it supports our football vision.
"Our ambition is to compete at the top of the game here and in Europe, to win trophies and do it in a way which makes fans proud, reflects our values and also protects Arsenal for the long term."
But there were tense exchanges between the 48-year-old and shareholders, one of whom said: "Mr Gazidis, I heard what you're saying and I don't agree with a word of it.
"This is a great club and you are ruining it with your financial policies."
Gazidis and Hill-Wood also said former captain and top scorer Robin van Persie was sold to rivals Manchester United for football reasons rather than any financial imperative.
Kroenke's only verbal contribution was to deny that he had placed any debt on Arsenal, and he pointed to his record in American sport to illustrate his willingness to invest his own money in clubs.