Swans' Michael Laudrup expects Man City response after Ajax loss
Last updated on .From the section Football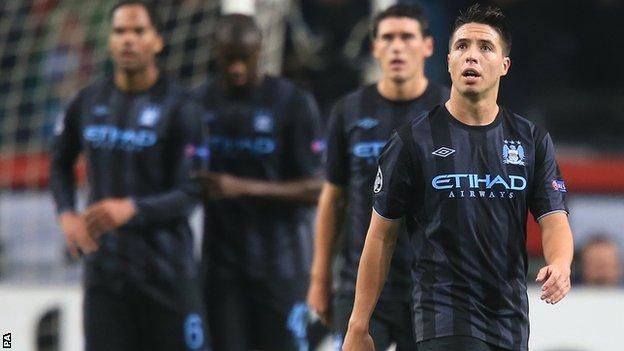 Swansea City manager Michael Laudrup expects a backlash from Manchester City following their Champions League defeat at Ajax.
Laudrup was surprised by the result but expects a response when Swansea face Roberto Mancini's side in the Premier League on Saturday.
"It's always a difficult game, even more difficult now after what happened [against Ajax]," Laudrup said.
"I think that the players are disappointed about [being] last in their group. I was surprised by the result but a lot of credit to Ajax.
"I don't know how many changes they'll do but I'm sure the 11 that go on the pitch want to show the crowd they're still here, want to win [and] want to compete for the title.
"We'll have to be even more prepared for that game. We have to be on alert from the first minute.
"When you play the champions it's always something special.
"And from a manager's point of view you don't have to motivate the players because they are so motivated."
Swansea's trip to Etihad Stadium is the start of a testing schedule for Laudrup's side, who secured their first win in six league games at home to Wigan last Saturday.
They will make a swift return to the north west next Wednesday for a Capital One Cup fourth round tie at Liverpool.
European champions Chelsea visit the Liberty Stadium the following Saturday, but Laudrup is not currently looking beyond this weekend's game at Manchester City.
"I think the best way to do it is one game at a time. I don't think we can go into this week thinking about three games," added the former Denmark striker.
"We have to think about one at a time and obviously the first one is Man City on Saturday.
"Chelsea and Man City are games where the majority don't expect much so you have a lot to win and not so much to lose. But we want some points because that's important.
"And then on top of that you add the game on Wednesday in the Cup against Liverpool at Anfield. We go into a very exciting week."