Jason Roberts would shake Chelsea captain John Terry's hand
Last updated on .From the section Football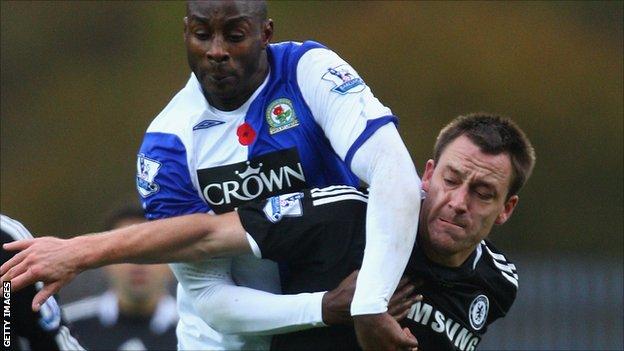 Jason Roberts would shake John Terry's hand but the Reading striker refuses to say whether or not he believes the Chelsea captain is a racist.
Roberts says football authorities are not doing enough to tackle racism.
"Yes, I would shake John Terry's hand," said Roberts. Asked if he felt Terry was a racist, he replied: "I would shake John Terry's hand, definitely."
It is a year since Terry racially abused Ferdinand during a Premier League game at Loftus Road.
Since then, there have been further incidents of racism over the past 12 months, notably earlier this month when England Under-21 defender Danny Rose was racially abused during a match in Serbia.
Angry at what he perceives is a lack of action, Roberts chose to make his own protest by not wearing a Kick It Out anti-racism T-shirt before his side's game against Liverpool last weekend.
The former West Brom, Wigan and Blackburn forward remains upset and says he will continue his boycott until more is done to address the issue.
Anton Ferdinand and brother Rio were among a number of other players who also refused to wear the T-shirts last weekend.
Roberts has offered suggestions for ways to tackle racism and believes English football should adopt a similar scheme to American Football's 'Rooney Rule' in the United States.
The Rooney Rule, established in 2003, requires NFL teams to interview one black or ethnic minority candidate for any head coach or senior football operation positions that become available, as part of a transparent and open recruitment process.
"I know the PFA have been very strong on this particular issue and have done a lot of work behind the scenes," Roberts told BBC South Today.
"I've spoken before about the Rooney Rule and my own personal view is that an equivalent of that on some level would help to give ethnic minority coaches and managers an opportunity to at least be involved in the interview process.
"From a personal point of view, I think it will be a good thing, but whether the PFA will be able to help make that happen we'll have to wait to see. But on this particular issue, their work has been outstanding.
"If you look at the impact it has had in American Football, it shows that if you give people the opportunity to stake their case they are more likely to get the job. But the PFA can only propose it, they cannot put it in place."