Wayne Rooney role key to Man Utd's 'diamond revolution'

By Phil McNulty
BBC Sport chief football writer
Last updated on .From the section Football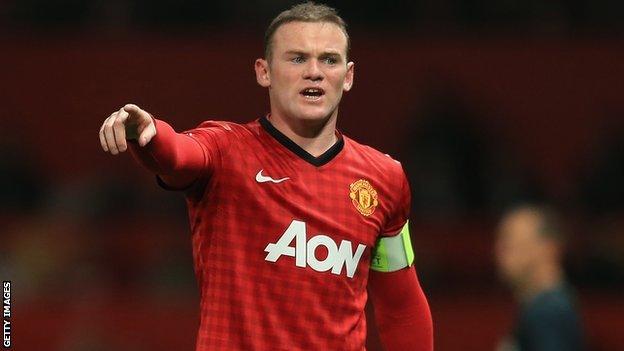 Sir Alex Ferguson admits he is going against his own managerial history - and that of Manchester United - by introducing what he calls a "revolutionary" diamond formation.
Width is so ingrained in Ferguson's football DNA that it is almost hard to imagine him walking around his own home without being flanked by two wide men.
And yet in recent weeks, Ferguson has moved away from the formation that has been his tactical template throughout 26 years at Old Trafford.
Ryan Giggs, David Beckham and Andrei Kanchelskis are among the stellar names to have fulfilled the role Ferguson loves - but the modern game requires versatility and adaptability and, even as he approaches his 71st birthday, the Scot is prepared to move with the times to maintain success.
His new system may mean a natural winger has to be sacrificed, against all Ferguson's instincts. He will ponder all his options before Sunday's visit to Premier League leaders Chelsea, with another visit to Stamford Bridge in the Capital One Cup and a meeting with Arsenal at Old Trafford also on the horizon.
Former Tottenham manager David Pleat believes Ferguson's change of heart is simply a reflection of the manner in which the modern game is evolving. He also makes the valid point that a team's width does not have to be provided by a natural flank player.
He told BBC Sport: "Using the diamond does mean that a winger may be sacrificed but the game is changing.
"You have to have width but you do not necessarily need wingers to provide it. It could come from full-backs or perhaps players such as Robin van Persie, Danny Welbeck or Javier Hernandez pulling wide.
"And of course if the manager feels the opposition has a full-back who is a poor player or is struggling then he can introduce a winger."
Ferguson used the diamond formation successfully against Newcastle in the Premier League and Capital One Cup and against Romanian champions Cluj in the Champions League.
It was also in evidence against Braga in the Champions League at Old Trafford on Tuesday, with Wayne Rooney at the tip, Darren Fletcher at the base, and Shinji Kagawa and Tom Cleverley as wide men. But it was swiftly abandoned after United gave the Portuguese a two-goal start and Ferguson needed to adjust things to stop Braga's flow of possession.
Cleverley moved right and Rooney left - and it is the natural gifts of the England striker that will prove pivotal to the ploy's future success.
He celebrated his 27th birthday on Wednesday and Ferguson's change of tack suggests he increasingly sees him as the fulcrum of his side, the player with the talent to spearhead the diamond formation and provide the crucial link between midfield and attack.
Statistics show Rooney, who has been used deeper on occasions this season, has so far played almost 10% fewer passes in the attacking third than in 2011-12 and 9% more in the midfield and defensive thirds combined - a fact that could also be regarded as an indicator of his versatility.
With the arrival of Van Persie, the development of Welbeck and the return to form of Hernandez, Ferguson has a wider range of striking alternatives. Using Rooney in a slightly deeper role means the United boss can improve his side's supply line while also allowing this avowed lover of attacking football to get more of his most dangerous players into his starting line-up.
United's failure in Europe last season may have also prompted Ferguson to re-examine his approach but a more likely explanation is that he has simply studied the resources currently available and is seeking to use them to best advantage.
Ferguson said: "If it turns out we play the diamond consistently it would be revolutionary because it is going against our history.
"The level of the game in England and Europe now is so high that making yourself unpredictable is going to be a strength. Teams will have to think whether we're going to use two out wide or the diamond because we have players capable of doing both.
"Kagawa and Cleverley can play really well in the type of game a diamond offers, while in Nani, Ashley Young and Antonio Valencia we have very good wide players."
It also relies heavily on full-backs who are prepared to provide width - which carries risks, as shown by the less-than-convincing defensive displays of Rafael and Alexander Buttner against Braga.
Rooney's importance to the system is inescapable but Pleat believes he can fulfil those responsibilities, saying: "It is a position that almost suits Wayne Rooney better because he can drift into the box for shots and headers like Paul Scholes has done and it doesn't negate his excellent work-rate.
"Rooney also has a great sense of team responsibility. He can link with the attackers around him but, if and when United come under pressure, he is such a hard worker and a natural player that he will come back to help retrieve the ball as well."
Former Manchester United striker Lou Macari believes Ferguson is simply practising sound management by knowing his squad, knowing his opposition and tailoring his tactics accordingly.
Macari told BBC Sport: "I think the manager has said playing Wayne at the tip of a diamond is an option for him but I don't think Sir Alex sits in his office devising systems. He will decide what he does by the players at his disposal and the opposition United are playing.
"If he has everyone fit such as Ashley Young, Nani and Valencia, I don't think he will hesitate to use them. It is all about the personnel he puts out on the pitch - it is them he believes in.
"He loves wide players but maybe at this time he doesn't feel he's got wide players available. Young has been injured and Valencia has had one or two knocks as well.
"It also depends on the opposition, but [his own] players are the important thing. The secret of success is playing to the strengths of your players and Sir Alex has a squad now that does give him flexibility.
"When you have players of the quality he has, you can change them from week to week without any damaging effect on the team.
"I actually don't think Sir Alex would hesitate to go with three strikers if he felt the team could cope with that."
And with United heading for the knockout stage of the Champions League after beating Braga, Ferguson will have plenty of chance to exercise United's adaptability.