BBC Sport meets former England striker Dion Dublin...
Last updated on .From the section Football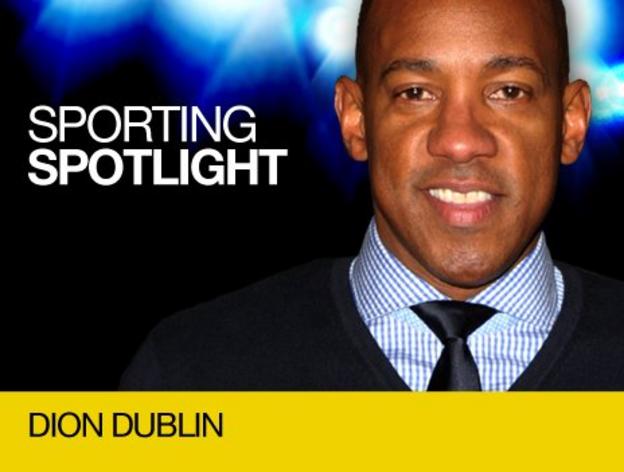 From Cambridge United to Manchester United, Showaddywaddy to The Dube, BBC Sport puts Dion Dublin under the spotlight.
What is your current status?
At the moment I do lots of work for the BBC - mainly Final Score, Football Focus and Match of the Day 2. I have also got my own percussion drum company and a shopfitting company. I also manage bands and a gospel choir. I've got nothing going on really.
Would you win Britain's Got Talent?
I probably wouldn't win it. Maybe perhaps if I did basketball shooting from the free-throw line.
Would you become a manager?
I've dabbled in it and thought about it. But right now, no. I'm enjoying my jobs too much and couldn't handle the sort of stress that comes with management right now.
Which player gave you the toughest time?
Gary Pallister, who is now my best friend in football. He knew everything about me, plus he's taller, stronger and faster than me - just basically better. Pallister was a nightmare to play against but he is a lovely bloke.
How many times have you been asked about the rumour your dad was in Showaddywaddy?
It's now 428,000 times. That rumour started a long time ago, but no, he wasn't!
What's this about you inventing an instrument?
Yes - the Dube - as in cube. It's a percussion drum I invented eight years ago while playing for Norwich. I made the first one on my own and it is now in production.
Chelsea and Manchester United played each other in the Premier League on Sunday and meet again in the Capital One League Cup on Wednesday. What do you make of their respective seasons so far?
Chelsea have been outstanding. They probably have the best squad of players that the Premier League has seen for some time. Manchester United will continue to be the best in the league as long as Sir Alex Ferguson remains in charge. They've always got a chance of winning something when he is managing them.
You played at Cambridge United, could you have gone to Cambridge University?
No. Maybe to the visitors' centre.
John Beck [former Cambridge United manager] or Sir Alex Ferguson?
Good question. Sir Alex Ferguson every day when it come to managers. As a nutter, John Beck.
When you look at results, who do you look out for?
Norwich City and Cambridge United.
What was the highlight of your career?
At Wembley in 1990. The match finished Cambridge 1-0 Chesterfield and I scored the only goal, which was also the first in a play-off final. It ensured that we went up from the fourth tier. The other highlight would be walking out for my England debut in 1998.
Who was the best dancer you played with or against?
Second best you mean? Marcus Hall was left-back at Coventry City when I played there. He had a few moves.
What was your biggest regret in football?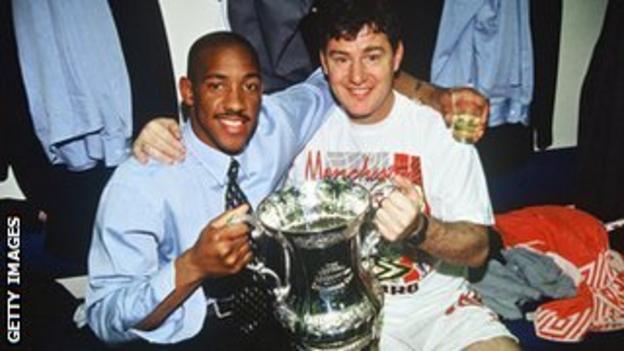 Not playing more times for Manchester United. I would have liked to have had three, four, five seasons there. I wanted to be able to work out whether I was big enough to play for the biggest club in the world. It was out of my hands because not long after joining in 1992 I broke my leg.
Would you follow your former United team-mate Eric Cantona into movies?
Yes I would. I'd like to star in band movies, jazz movies, action movies. Any movie. Give me a movie.
Which sporting icons would you invite to dinner?
Michael Jordan - he would be first on the list. Richard Pryor is not a sporting icon and he is no longer with us, but I would have liked to have dinner with him. Nelson Mandela and Sting as well. That'll do - I've only got four chairs around my table.
What do you make of Twitter?
It is useful if you use it in the right way. Read before you post.
What do you make of the current state of football?
On the pitch, it is very good. There has been coverage of racism lately, but I am sick of speaking about it. Each time you speak about the racists it enhances their importance. Lets get racism in sport sorted.
Who or what impressed you at the Olympics? Would you be good at any of the events?
There is no Olympic sport I think I'd be OK at - although I'm not bad at table tennis and basketball. My favourite moment was when Briton Peter Wilson won the double trap gold in shooting. It was exceptional. I went on a Question of Sport with him two weeks later.
What's the best bit of advice you've ever had?
Football's the best job in the world.
Who will win the Premier League this season?
Manchester United.