Blackburn close in on new boss but the decision must be right
Last updated on .From the section Football146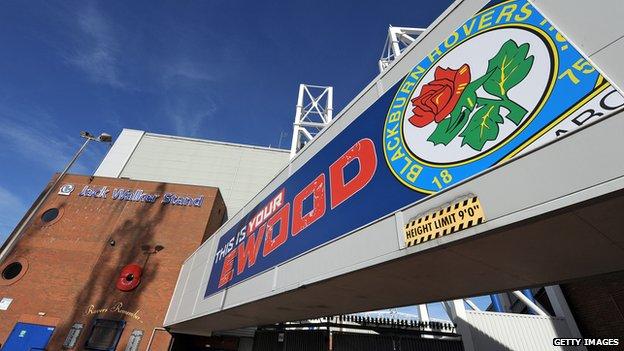 It is four weeks to the day that Steve Kean resigned as manager of Blackburn and still the search for his successor goes on.
In the eyes of the fans, the Scot had become a symbol, even a symptom, of the chaos that has engulfed Ewood Park in the two years since Venky's, the Indian poultry firm, bought the club. With Blackburn third in the Championship only the timing came as any great surprise.
Dissatisfaction with Kean had been expressed by many at Blackburn over the previous 18 months, with several opponents of his regime ushered out of the club. But in September Anuradha Desai, the Venky's chairwoman, was finally persuaded of the need to reconsider her stance that Kean was the man for the job.
Blackburn's global adviser Shebby Singh has been central to the search for a new manager, having been entrusted by Venky's to oversee the rebuilding job after last season's relegation from the Premier League. It has been a far from straightforward process.
The applications flooded in from the start. Bernd Schuster, the former Real Madrid manager, registered his interest. Javier Clemente, Ruud Gullit and even Giovanni Trapattoni asked to be kept informed.
It took more than a week to sort the wheat from the chaff, to see through the big names and to settle on a profile of the next manager. "Young, bold, progressive, untarnished by previous failures" were all phrases used to describe the ideal candidate, at least in some quarters of the club.
"This group is obviously the most interesting one, because you've got to look, you've got to find, you've got to search, so that is possibly why it has taken more time," Singh said on Thursday. "You have got to tread with caution and if caution means taking a little bit more time than usual we'll take it."
Tim Sherwood, Blackburn's captain when they won the Premier League title in 1995, was quickly identified as a leading candidate, as was former Manchester United striker Ole Gunnar Solskjaer, who has caught the eye in two incredible seasons of success with the Norwegian club Molde. Fulham first-team coach and former Blackburn midfielder Billy McKinlay was also added to the list.
Discussions flew back and forth between Lancashire and India before it was finally decided to pursue Sherwood. Daniel Levy, the Tottenham chairman, rejected an initial approach for his technical coordinator. Talks continued but Spurs stood firm with Sherwood unwilling to rock the boat and force a move.
Attention switched to Solskjaer but it soon became clear that with the Norwegian season not due to finish until the end of November timing would be an issue. Venky's were not willing to wait. Fulham were contacted about McKinlay's availability. An approach was rejected, word leaked out and the fans made their feelings clear.
Glen Mullan, chairman of the Blackburn Rovers Action Group, revealed that "thousands of supporters" had contacted him "demanding that we take immediate action to prevent Blackburn Rovers appointing a manager unwanted by the supporter base". He went on to say, "they are not willing to put up with another experiment".
"Talk of Billy McKinlay and Tim Sherwood, who are both coaches with no managerial experience, has sent supporters into meltdown," he insisted.
Blackburn went back to Solskjaer. Now they were willing to wait for the right man but the Molde manager gave it some thought and decided he and his young family were not yet ready to leave a settled home in Norway. At least not for what may yet be a gruelling season in the Championship. The answer was no.
Emotions are raw and intense and with Venky's aware they simply cannot afford another unpopular appointment, the shortlist was scrapped and a new one drawn up.
Proven experience has been given greater credence this time around. Blackpool manager Ian Holloway is high on the list, as is Huddersfield boss Simon Grayson, while former players Alan Shearer - who would be assisted by Mike Newell - and Henning Berg also remain keen on the post. Gareth Southgate has also been discussed.
Interviews have begun. An appointment, Singh insists, will be made by the middle of next week.
Caretaker boss Eric Black has steadied the ship and victory over Sheffield Wednesday lifted the club back into the playoff places and within touching distance of automatic promotion.
Time continues to tick on and as the days pass names are thrown into the mix, with and without foundation. Decision time is approaching and rarely has so much depended on appointing the right man.
The soul of a century-old club cannot be ripped out in two years, but the new man must realise his central role in healing the wounds, and the time it has taken to appoint him will be forgotten if Singh and Blackburn make the right choice.